PHD CHAMBER TO HOST STATES' CONCLAVE – 2018 THEMED ON NEW INDIA@PUNJAB 2022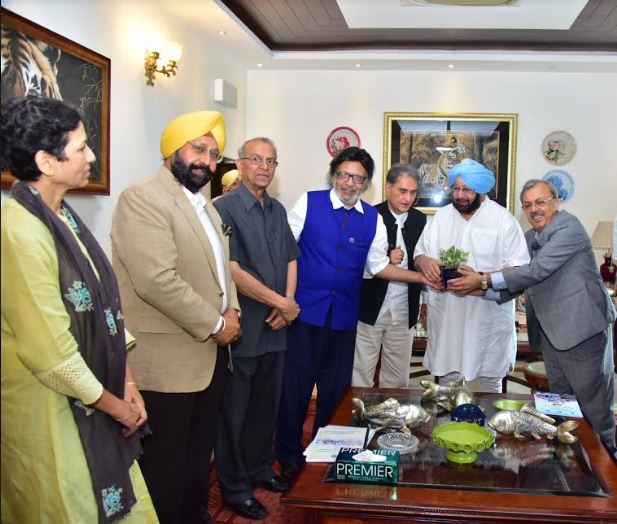 Chandigarh:
PHD Chamber of Commerce and Industry in collaboration with 'Invest India' – Investment Promotion and Facilitation Agency of Govt of India is organizing "States' Conclave – 2018" which is themed on 'New India @ Punjab 2022' on August 24, 2018 at Hotel Taj Palace, New Delhi. Mr. Anil Khaitan, President, PHD Chamber along with Mr R.S Sachdeva, Chairman , Punjab Committee, Dr Ashok Khanna, Former President, PHD Chamber, Mr Satish Bagrodia, Former President, PHD Chamber, and Mr Rajiv Bhatnagar, Chairman, Defence and HLS Committee, PHD Chamber met Captain Amarinder Singh, Chief Minister, Punjab today to extend the invitation for this prestigious conclave.
This event is in continuation to the Chamber working relentlessly over the decades for the socio-economic development of Indian States with a motto – 'Strong States Make Strong Nation.'. The conclave wll e attended by Industry captains and investors who are engaged in their businesses in Punjab.
A delegation of PHD Chamber under the leadership of its President  Anil Khaitan today met Captain Amarinder Singh, the Chief Minister of Punjab to extend him the invitation for conclave. Mr.Khaitan appraised Chief Minister about the background and objectives of the conclave.
In its 15th edition this year, PHD Chamber aims to support for "Making New India" through strengthening the base for government-industry interface at states, by ensuring the best desired outcomes in these crucial thrust areas during the Conclave and further on through sustainable practices which includes Agro & Food Processing, Healthcare, Infrastructure, MSME, Renewable Energy, IT &ITeS, Auto & Engineering, Tourism, Textiles, Defence Manufacturing and Electronics System Design & Manufacturing (ESDM)
According to Anil Khaitan, President, PHD Chamber, "The Government of India (GoI) with its latest vision, mission and further goals and policies, is pushing forth the idea of a government which governs, facilitates and encourages the citizens from diverse stratums to participate in economic development activities. Such a vision necessitates innovative means to achieve the desired ends.
As per an estimate of International Monetary Fund (IMF), the past 26 years have seen the Indian economy grow more than eightfold in dollar terms between 1992 and 2018. A $293 billion economy 26 years back is now a $2.65 trillion one in 2018. Average incomes have also gone up by a factor of six over the same period – from $318 to $1,852.
At the cusp of decisive change, if the collaborative efforts of government and industry could continue with the same momentum or increased pace, the next 25 years will end with making India a $20 trillion economy or even richer where the average Indian citizen would earn $7,100 or more.
"That is on track of attaining the goals figured out with "Making New India," and the Conclave keeping the constructive bearing with the government and industry, spearheads the Campaign to transform the way India perceives governance." Said Khaitan
A uniquely significant programme on government-industry interface in India, it upholds to ensure a robust eco-system for businesses, by simplifying the official procedures and making them transparent at decision-making levels, with greater interface of technology. Also, it proactively supports India's "Economic Reforms Mission," with bringing the highest echelons of government and industry at one powerful platform where who's who of India makes their presence felt.
About PHD Chamber
PHDCCI, established in 1905, is a proactive and dynamic multi-State apex organisation working at the grass-root level across States of India and develop strong national and international linkages. Through policy interventions, it acts as a catalyst in the promotion of industry, trade and entrepreneurship.
The 113-year old Chamber is focused on facilitating nation-building endowed with a strong secretarial team comprising of 72 expert committees, 2 foundations, state chapters and an effectual State Development Council (SDC). SDC as the Think Tank of PHDCCI offers strategic advice on key identified areas at the State Level – and it hosts the Chamber's signature initiative, Chief Ministers' Conclave.
This Council, since its inception has been working towards a shared vision of priorities. It strives hard to create a knowledge, innovation and entrepreneurial support system through a collaborative group of experts, practitioners, partners, diplomatic community, members of civil society, chambers with diverse accreditation and media to pursue the developmental agenda for states and accelerate its implementation on ground.
https://demokraticfront.com/wp-content/uploads/2018/06/PIX3.jpg
524
617
Demokratic Front Bureau
https://demokraticfront.com/wp-content/uploads/2018/05/LogoMakr_7bb8CP.png
Demokratic Front Bureau
2018-06-29 13:56:06
2018-06-29 13:56:06
PHD CHAMBER TO HOST STATES' CONCLAVE – 2018 THEMED ON NEW INDIA@PUNJAB 2022