Mitra pronounces enemity more comfortably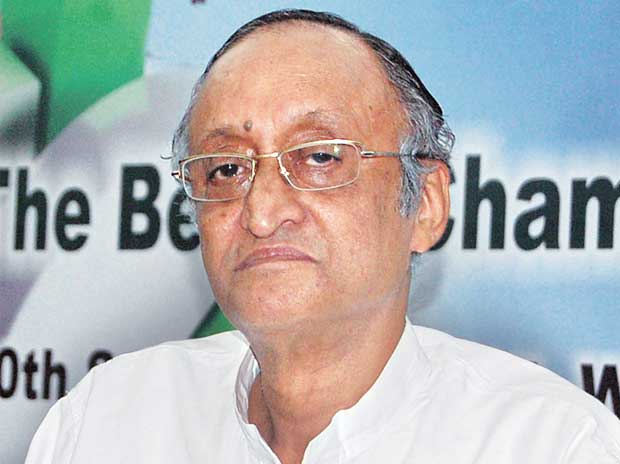 State finance minister Amit Mitra on Thursday called BJP national president Amit Shah as the "frontal face" of a "military outfit and terrorist" party who had no business to comment on Bengal and chief minister Mamata Banerjee who has a long history of relentless struggle and a national political stature.
Mr Shah lashed out at Miss Banerjee and alleged that there was utter lawlessness and misrule in Bengal during his two-day trip to the state.
"The person who is accusing our government of violence belongs to the party whose leader issues life threat. That particular BJP leader had said that he would send people to crematorium. What kind of language is this?" Mr Mitra questioned at a Press conference in Nabanna.
Mr Mitra said he was shocked by Mr Shah' audacity in attacking Miss Banerjee by her name. "Being a newcomer in Parliament how could he (read Shah) comment on Miss Banerjee who has served as seven-term MP. People of Bengal have full faith on her and would not spare anyone for speaking against Miss Banerjee. BJP is a rioteer's party with no political history or credibility," he said.
On Mr Shah's call to oust Trinamul Congress from Bengal, Mr Mitra said that the BJP leaders will have to go back to Gujarat as their days in Delhi was numbered. Mr Mitra said that the party does not understand the culture of Bengal and will not only be rejected by the people of this state but by the people of the entire country and it will finally be forced to return to Gujarat only to face similar rejection there.
Mr Mitra said that the fact that has pained him most was that Mr Shah told people that West Bengal had gone down to be known as bomb making factory where people get to hear the sound of bombs and not Rabindra Sangeet. Mr Shah was insulting Bengal and its people who take pride in its culture and Tagore, Mr Mitra added.
He said that the lawlessness at Mr Shah's rallies speak out about the indiscipline and infighting in BJP. Earlier during the day, Mr Shah had said that Miss Banerjee was depriving people of the state by not accepting the health insurance scheme of the Modi government.
Mr Shah had claimed that the state had received higher allocation in the 14th Finance Commission than that in 13th Finance Commission (during Congress). He had also attacked the Trinamul Congress government's campaign on development by saying development had only benefitted the Trinamul Congress henchmen and not the common people.
In response, Mr Mitra called Mr Shah a "liar" and questioned him as to why the Modi government had stalled 38 social welfare schemes and cut down its share of grant in 28 others. "Had there been no growth then how come the Centre handed over six awards to Bengal for governance?"
Mr Mitra asked adding that the state had also received 31 Skotch awards recently. Mr Mitra said that unlike its predecessors, Trinamul Congress-led government spends 40 per cent of its total borrowings on undertaking development work. There has been a 8.5 times growth in capital expenditure and bureaucrats from others states visit Bengal to learn about e-governance and growth in infrastructure, he added.
https://demokraticfront.com/wp-content/uploads/2018/05/LogoMakr_7bb8CP.png
0
0
Demokratic Front Bureau
https://demokraticfront.com/wp-content/uploads/2018/05/LogoMakr_7bb8CP.png
Demokratic Front Bureau
2018-06-29 03:10:57
2018-06-29 03:13:03
Mitra pronounces enemity more comfortably