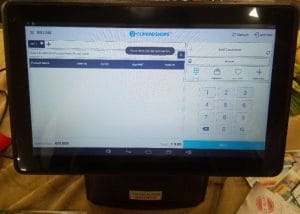 Hyderabad's Nukkad Shops has entered Punjab with their new Launch Aspire. "Aspire is a machine which runs with a software that allows shop keepers to file GST, generate E-Bill and even get to know neighborhood stores", says Vivek Shukla.
Varanasi-born Vivek Shukla founded Nukkad Shops in 2016 along with three other founders Niranjan Kumar, Kulashekar Reddy and Vinodh Nair.
Shukla told that Aspire is affordable and also allows shopkeepers to take their store online. Shopkeepers doesn't have to spend money on paying for an accountant as Aspire will do the billings and filing as well.
Small neighbourhood grocery stores have unconsciously been left behind in terms of technology.
Shukla has come up with a perfect solution for them with Aspire which costs Rs 35,000. Thereafter shopkeeper has to pay Rs 500 per month for the software of machine.
"We started toying with the idea at the end of 2015 and by beginning of 2016 we started exploring the concept in a full-fledged manner. We first built a high-end product called the Nukkad Shops Elite – targeted for bigger supermarkets and completely different from the basic software that they normally use", says Shukla.
The working of the company is pretty simple. Nukkad Shops provide the whole ecosystem for the retailer to become digitally independent. It provides smart point-of-sale devices, printer and software through which the owner can monitor the inventory and the purchaser will get a list of items available in the shop. It makes the whole billing system becomes seamless.
Nukkad shops provides customers with an App to book day-to-day groceries, get it home delivered and also keep an e-bill in case of return or exchange. It has three different solutions based on segmentation – Nukkad Shops Elite, Nukkad Shops Pro (segment B retail stores) and Nukkad Shops Aspire (segment C retail stores).
https://demokraticfront.com/wp-content/uploads/2018/06/IMG_20180617_013445-781x558-300x214.jpg
214
300
Demokratic Front Bureau
https://demokraticfront.com/wp-content/uploads/2018/05/LogoMakr_7bb8CP.png
Demokratic Front Bureau
2018-06-17 02:50:23
2018-06-17 02:50:23
Nukkad Shops forays into Punjab by launching Aspire