Bank Strike Hits Services; ATM Withdrawals Get Affected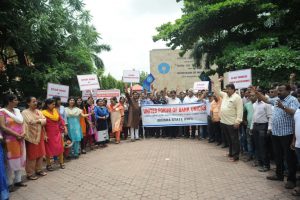 Banking services were hit across the country for the second day on Thursday, as about 10 lakh bankers continued their strike to protest a "meagre" 2% salary hike offered by the Indian Banks Association (IBA) — the banks' management body.
Thursday is the last day of the two-day strike being observed by the United Forum of Banking Unions (UFBU), an umbrella organisation consisting all nine unions of the banking sector. Banking operations are likely to become normal from Friday.
UFBU has claimed that the strike is "total success" as the employees have "enthusiastically participated in the strike in all banks and in all branches".
"All banking services were crippled as bank branches were closed. ATMs also dried up after few hours as currency chests were closed," UFBU's convener (Maharashtra) Devidas Tuljapurkar claimed.
According to reports received by UFBU from various states and centres like Mumbai, Delhi, Kolkata, Chennai, Bengaluru, Hyderabad, Ahmedabad, Jaipur, Patna, Nagpur, Jammu, Guwahati, Jamshedpur, Lucknow, Agra, Ambala, and Trivandrum, employees have enthusiastically participated in the strike in all banks and branches.
There are about 85,000 branches of 21 public sector banks across the country, with a business share of about 70%.
Operations in the new-generation private banks like ICICI Bank, HDFC Bank, Axis Bank, however, were almost normal, barring few activities including cheque clearance.
Nearly 10 lakh employees, working in various branches of 21 public sector banks, 13 old generation private sector banks, six foreign banks and 56 regional rural banks across the country went on a two-day strike yesterday as IBA offered them a nominal wage revision, All India Bank Employees Association (AIBEA), affiliate of UFBU had said in a statement.
Since the strike coincides with the month-end, salary withdrawals from branches were said to be affected on Wednesday, and the situation is likely to remain same on Thursday, said sources in the banking sector and employees union.
Operations like deposits, FD renewals, government treasury operations, money market operations are also being reportedly hit by the strike.
In its last wage negotiation meeting held earlier this month, IBA proposed a nominal salary revision to bank employees and officers, owing to huge losses incurred by them in the last few quarters, bank unions said.
Wage revision in the banks has been due from November 2017.
https://demokraticfront.com/wp-content/uploads/2018/05/IMG-20170822-WA0063-1.jpg
708
1064
Demokratic Front Bureau
https://demokraticfront.com/wp-content/uploads/2018/05/LogoMakr_7bb8CP.png
Demokratic Front Bureau
2018-05-31 08:52:19
2018-05-31 08:52:19
Bank Strike Hits Services; ATM Withdrawals Get Affected