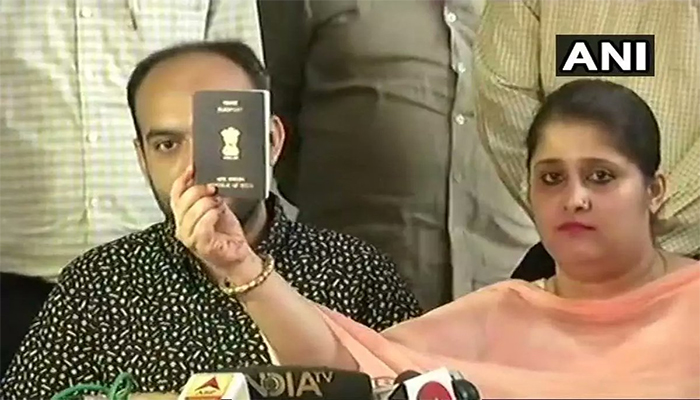 ---
External affairs minister Sushma Swaraj was trolled on Twitter over a controversy involving the issuance of passport to an inter-faith couple. Swaraj then "liked" over 200 tweets in which she was trolled.
---
External affairs minister Sushma Swaraj faced vile abuse on social media through the weekend over the controversy regarding transfer of a passport officer from Lucknow. The officer, Vikas Mishra, was transferred after an inter-faith couple tweeted at the minister accusing him of bigotry and public humiliation, while alleging that the officer asked Anas Siddiqui, the Muslim husband of Tanvi Seth, to convert to Hinduism.
Though the minister did not tweet responding to the couple's concerns herself, Mishra was transferred to Gorakhpur. However, the narrative of what happened in Lucknow passport officer has since switched with Mishra insisting that he merely asked the couple about the discrepancy between the name — Tanvi Seth — on which she sought passport and the one she had used in her nikahnama, and asked her to get it corrected in records.
Mishra said the nikahnaama mentioned the woman's name as Tanvi Anas and that he was required under the rules to seek clarification. A witness, Kuldeep Singh, came forward to second Mishra's version that the officer had only sought the clarification and had referred the couple to his senior. The trolls held Swaraj directly responsible, accusing her of "minority appeasement" while defending the transferred officer, saying he was only following protocol.
The twitter-friendly minister on Sunday responded with a passive aggressive tweet to the hate and abuse. "I was out of India from 17th to 23rd June 2018. I do not know what happened in my absence. However, I am honoured with some tweets. I am sharing them with you. So I have liked them," she said.
Her verified Facebook page also saw a jump in 1 star "reviews," a feature of public pages on Facebook. In her "liked" tweets, one from a user called @Abhi_ 4_Nation read:
"Dear @SushmaSwaraj, Are you idiot? (sic) Why are you diluting all the great work just in order to intentionally become bulls**t secular? Are every citizen allowed to have passport or ID cards in multiple names? (sic) Is Drama allowed in your ministry? Or Ur Mental Status is not fine."
This was among the more printable of the tweets which the minister was subjected to.
https://demokraticfront.com/wp-content/uploads/2018/06/Sushma-Swaraj-passport-couple.jpg
400
700
Demokratic Front Bureau
https://demokraticfront.com/wp-content/uploads/2018/05/LogoMakr_7bb8CP.png
Demokratic Front Bureau
2018-06-26 01:51:40
2018-06-26 01:51:40
Sushma Trolled on Twitter for 'Minority Appeasing'