Demokratic Front Correspondent, Chandigarh – 20 January :
On the call of the United Forum of Bank Unions (UFBU), the apex body of 9 trade unions of Bank Employees and Officers, lunch time demonstration was held today at three places in the tricity i.e. in front of Bank of India, Main Branch, Bank Square, Sector 17, Chandigarh, in front of SBI AO Building in Sector 68, Mohali and SBI AO Building, Sector 5, Panchkula against the following issues:
Introduction of 5-day work week for Bankers.
Updation of Pension for past retirees.
Resolution of residual issues.
Adequate recruitment in all cadres to ensure better customer service.
Scrap New Pension Scheme and restore Old Pension Scheme.
Immediate commencement of negotiations on Charter of Demands for wage revision.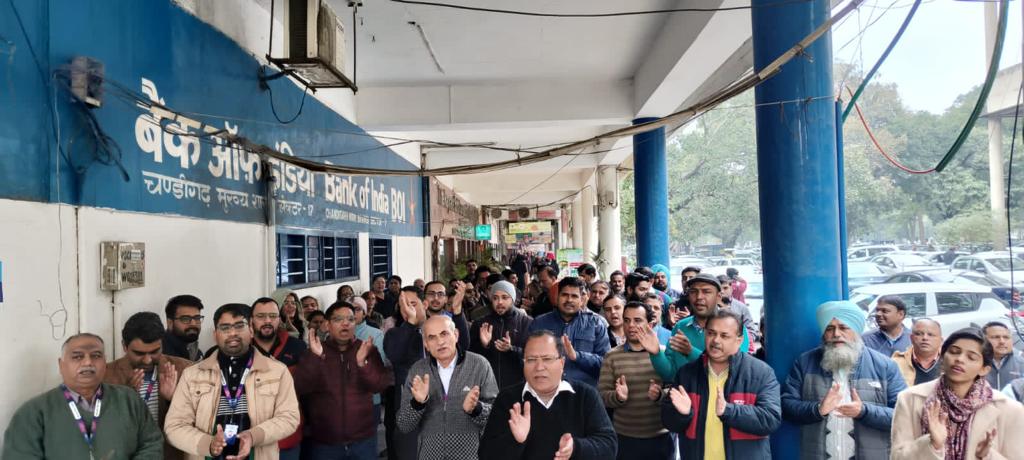 More than 1000 members affiliated to UFBU participated in the lunch time massive demonstration at the three centres in Tricity. A two day strike has also been planned by the UFBU for 30 & 31st January 2023. The loud sloganeering by the participants including large number of lady members showed the anger of the members against the approach of the IBA in resolving the pending issues and wage settlement.
Jagdish Rai, Shri T S Saggu, Shri B S Gill, Vipin Kumar Handa, Shri Harmeet Singh, Shri Ashok Goyal and other leaders from various constituents of UFBU shared their views.
Jagdish Rai from AIBEA, said that all these months UFBU had displayed patience with a hope that IBA will come forward, discuss our demands and resolve the same amicably by way of mutual discussion and negotiations. He said that as the talks did not materialize due to the non-serious approach of IBA, hence UFBU decided to come out on streets and express our resentment through strike action.
Priyvrat from AIBOC said that undue delay on the part of IBA in resolving the pending and residual issues has forced us to come on the streets. He said important issues like 5 day Banking, updation of Pension, Scraping of NPS and residual issues are still pending due to the non-serious approach of IBA.
While opposing the delaying tactics of the IBA in resolving the pending issues including the commencement of negotiations on the Charter of Demands for the wage revision Com. Sanjay Sharma, the convenor of UFBU (tri-city) said that the IBA has forced us to go on agitational path. He said that CLC will be holding a conciliation meeting with UFBU constituents and the IBA again on 24/01/2023 in Mumbai. He said that if IBA can give a firm commitment to resolve the demands within an agreed time, UFBU may reconsider their agitation including the proposed strike.
https://demokraticfront.com/wp-content/uploads/2023/01/IMG-20230120-WA0046.jpg
683
1024
Demokratic Front Bureau
https://demokraticfront.com/wp-content/uploads/2018/05/LogoMakr_7bb8CP.png
Demokratic Front Bureau
2023-01-20 14:12:05
2023-01-20 14:12:07
LUNCH TIME DEMONSTRATION BY UNITED FORUM OF BANK UNIONS