Demokratic Front, Pune/Chandigarh, Nov 8 :
A one of a kind bookfair where you can buy all the books that fit in a box
"Lock the Box" will house the largest collection of books under one roof in India with over 1 million books. Bookchor, an online retailer for used books, is organizing 'LockTheBox-Reloaded,' an exclusive and unique bookfair wherein the customer pays for a box and takes home all the books that can fit in it.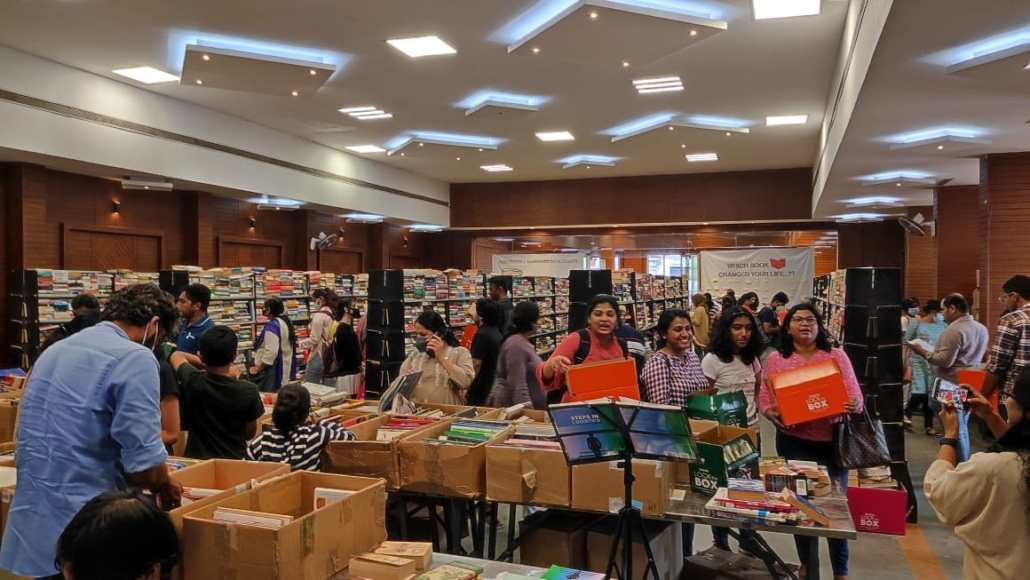 Vidyut Sharma, Founder, Bookchor shared his excitement about coming to Pune and said, "We are delighted to bring "LockTheBox – Reloaded" to Pune for a 2nd time. Our initial outing garnered much attention and was able to draw bibliophiles both in and around the city." He also added that "The kind of reception that LockTheBox has received in cities like Chandigarh, Kolkata, Hyderabad, Kochi, Trivandrum, and Indore in the past couple of years is very encouraging and we hope to replicate the same with our 2nd edition of the bookfair in Pune."
The fair, slated from November 11th to the 20th, 2022 at Harshal Halls & Banquet, 153, Kasat Chemical Compound, opposite Mc Donald`s, Kothrud, Pune, will feature more than 1 million books in genres like fantasy, non-fiction, knowledge, auto-biographies, publications for teenagers, books for children, suspense, sci-fi, and a lot more.
For casual readers or avid bookworms, customers can choose from the "Box" that they believe suits best to them. The 'Odysseus' Box can be a great choice for casual readers, the box is priced at Rs 1199 and customers may fit up to 10 books. The 'Perseus' Box is intended to satisfy the hunger of certain eager readers. For INR 1799, the box can store up to 17 volumes. The 'Hercules' Box is Ideal for a voracious reader, with the box costing INR 2999, you may practically load your bookshelves with up to 30 books.
Readers can choose from the above boxes and fill them with their favourite books, as long as it all fits in. And the only real condition to the offer is that the box must close flat, which practically ensures it's an all-you-can-have treat!
With over 6 years in the market, Bookchor was established as a digital solution to a much disorganized physical market and as a startup that was encouraged by the Digital India initiative. LockTheBox was first launched in Delhi back in 2018 with the purpose of fostering the love of reading in Indian youngsters by giving books at the lowest possible rates.
At the event, book enthusiasts may also sell their used books. They may use the Bookchor 'Dump' app on Android and iOS to upload information regarding the volumes they would like to offer.
Bookchor Literary Solutions Pvt. Ltd, is a digital provider of new and used books in India, having a dedicated presence across Android, iOS, and the Web platforms. The ever-expanding user base now includes almost 900,000 users from around the country. It is also recognized for its physical presence, having participated in over 100 events. Bookchor not only sells books online but has recently ventured into its first physical store with Last Page launched in Bengaluru. Through their 'Dump App' they also facilitate users to sell books to Bookchor or list their books and sell those directly to prospective customers. Bookchor's main focus was to change the dynamics of the Indian book market, a feat that they have largely been able to achieve by offering the most affordable books and providing access to one of the largest collections of books in India.
https://demokraticfront.com/wp-content/uploads/2022/11/WhatsApp-Image-2022-11-05-at-15.48.54.jpeg
868
1160
Demokratic Front Bureau
https://demokraticfront.com/wp-content/uploads/2018/05/LogoMakr_7bb8CP.png
Demokratic Front Bureau
2022-11-08 13:23:38
2022-11-08 13:28:44
"LockTheBox -Reloaded" a Literary Extravaganza by Bookchor in Pune from 11th of November '22