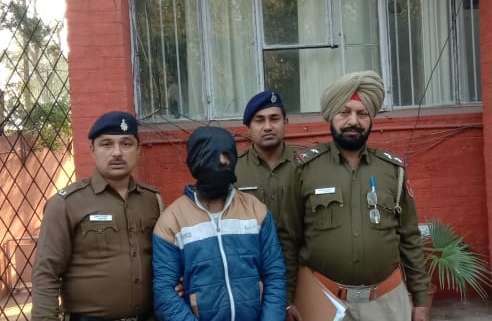 Korel, CHANDIGARH – 13th February
Chandigarh Police achieved success by cracking snatching case within 10-12 hours with the arrest of accused by a special team of Police Station-36 Chandigarh.
On 12.02.20, complainant Sobat Singh Rawat S/o Umed Singh Rawat R/o H No 3409,d sector 15 Chandigarh reported that he was present near Surya Hotel Sector 42, Chandigarh, in the mean time a boy came and snatched his mobile phone make Vivo and fled away from the spot. In this regard case FIR 30 Dt. 13.02.2020 U/S 379 A IPC PS-36, Chandigarh was registered and special team was constituted to work out the case.
The special team did commendable job by arresting accused Jitender Kumar @ Munia Age 20 yrs S/o Jagdish R/o H No 139/6, Vill Atawa, sector 42, Chandigarh within a short span of time i.e. 10-12 hours and recovered the snatched mobile from his possession. He was thoroughly interrogated and disclosed that he has also stolen an Activa from the parking of ISKON Mandir sector 36, Chandigarh. Accordingly on his identification stolen Activa CH04-3930 has also been recovered and case FIR No 224/19 U/s 379,411 IPC PS 36 has been worked out.
Previous criminal record – Nil
Recovery
Vivo mobile phone
Activa CH04-3930
Accused will be produced before the Hon'ble Court by tomorrow.
https://demokraticfront.com/wp-content/uploads/2020/02/Image.jpeg
1036
492
Demokratic Front Bureau
https://demokraticfront.com/wp-content/uploads/2018/05/LogoMakr_7bb8CP.png
Demokratic Front Bureau
2020-02-13 13:41:55
2020-02-13 13:41:58
Chandigarh Police Cracked a case within 12 hours with the arrest of the accused