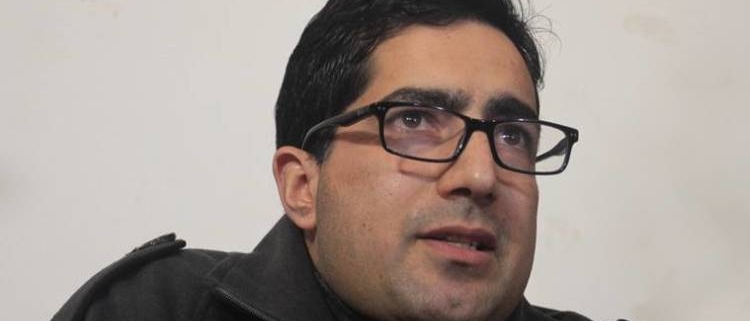 In recent developments regarding the detention of bureaucrat-turned politician Shah Faesal from Delhi Airport on 14th of August, Bureau of Immigration in an affidavit filed in the Delhi High Court has quashed claims made by the Kashmiri politician. After being taken into custody by the Bureau of Immigration at the Delhi Airport, reports had surfaced that Shah Faesal was bound for the US in order to complete his Masters in Public Administration course. However details regarding the visa, revealed in the affidavit filed by the Bureau of Immigration surely raise questions on these claims.
"This is a tourist visa and not a student visa. The petitioner was traveling on this visa on 14 August even though the petitioner claims he was intending to travel to the US for completing his masters in public administration course," the Bureau said adding that the visa on Shah Faesal's passport does not allow him to study in the US.
The Bureau had filed this affidavit after a habeas corpus plea was moved on Faesal's behalf by Mohd Hussain Cader which had claimed that the former IAS officer was on his way to Harvard University in the US for higher studies when he was illegally detained at the Delhi airport under the Public Safety Act (PSA).
The Bureau of Immigration said a Look Out Circular (LoC) against Faesal was issued by the Intelligence Bureau (IB) to "prevent the subject from leaving India and inform the originator".
After being taken into temporary custody by the Bureau of Immigration, IB was informed and Shah Faesal was sent back to Srinagar, where according to another affidavit filed by the Jammu and Kashmir government, Faesal began to address a gathering at the airport in Srinagar. "He started instigating the persons gathered against the sovereignty and integrity of the country having the potential of a breach of peace," the affidavit said. He was later detained on orders of the magistrate after refusing to furnish a personal bond of 50,000 for keeping peace.
Nonetheless, trying to leave the country on false basis surely raises serious questions on his real intent behind going to the United States. This has also given steam to several reports which say that Faesal was ultimately bound for Turkey, rather than the US, from where he planned to reach ICJ in The Hague, Netherlands, to file a case against India for abrogating Article 370. Turkey which has a pro-Pakistan alignment has been notorious at facilitating anti-India activities on its soil, sponsored by Pakistan's ISI.
Shah Faesal had recently jumped into Jammu and Kashmir politics after quitting his job in the Indian Administrative Service, however, with the reorganization of states most of the political parties based out of Kashmir PDP, NC and now Shah Faesal's new party have completely lost relevance, and his attempt to leave the nation on false grounds is sure to bring into question his allegiance to the Indian Constitution.
https://demokraticfront.com/wp-content/uploads/2019/08/shah-faesal-759-750x375.jpg
375
750
Demokratic Front Bureau
https://demokraticfront.com/wp-content/uploads/2018/05/LogoMakr_7bb8CP.png
Demokratic Front Bureau
2019-08-30 13:21:03
2019-08-30 13:21:11
Shah Faesal was going to US for studies but without 'Student Visa' and name of institute