'Youth to give back to the Nation' – Manpreet Singh Badal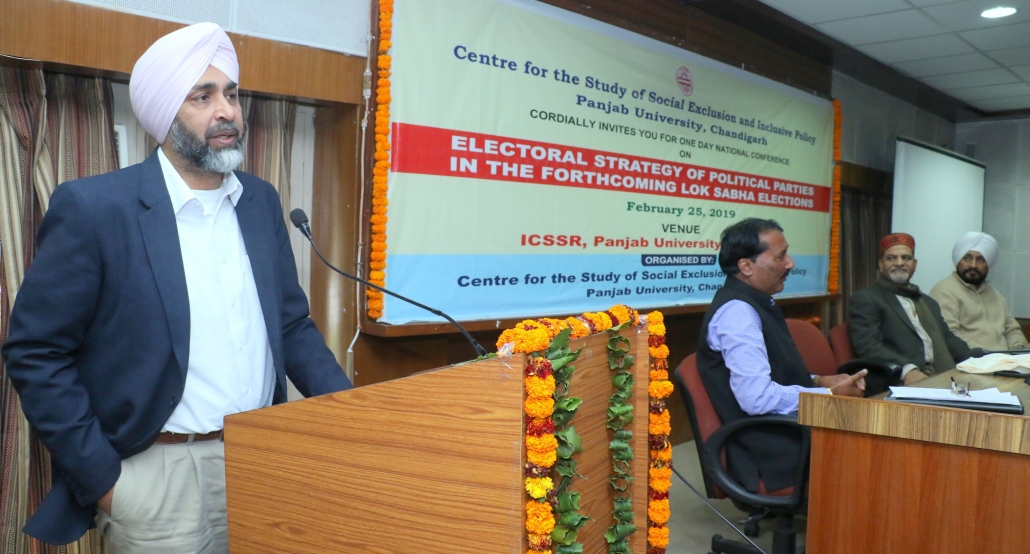 Chandigarh February 25, 2019

'Youth has the power to change anything and can be instrumental in making country free from corruption, unemployment, poverty and drug free society' said Sh. Manpreet Singh Badal, Hon'ble Finance & Planning Minister, Government of Punjab at the National Conference organized by Centre for the Study of Social Exclusion and Inclusive Policy, Panjab University(PU), Chandigarh, on Electoral Strategy of Political Parties in the forthcoming Lok Sabha Elections, here today.
The Hon'ble Minister addressed the youth as the next generation of the country and urged them to collectively take the nation to great heights irrespective of the language, creed, colour, caste and religion. He added that it's time to give back to the nation by making all efforts for securing a honourable place in the community of nations for India.
Mr. Charanjit Singh Channi, Minister of technical Education, Punjab was the Guest of Honour during this event. In the valedictory session, he said that connection with people plays a very important role in electoral strategies in any elections. He also appealed to the youth to participate in political activities because it is the youth who can give a new direction to Indian Politics.
Prof. Raj Kumar, Vice Chancellor, PU in his welcome address expressed gratitude on his behalf and on behalf of PU fraternity with
respect to recent enhancement of 6 percent annual budget to the University. He appreciated the Hon'ble Minister for his willingness to help PU and its constituent colleges. He informed that already a proposal worth Rs.50 crores has been submitted for building maintenance.
The keynote speaker Prof. Zoya Hasan from JNU, Delhi said that the BJP has come to the centre stage of the Indian electoral scene.Through its policies the BJP is replacing the pluralist democracy with majoritarian democracy. She said that it is a matter of concern that the incumbent government is trying for complete take over of political, social, cultural and intellectual space. She suggested the coalition of political parties can put up a strong resistance to this hegemony politics.
Prof. Sanjay Kumar, Director, Centre for the Study of Developing Societies (CSDS), New Delhi while addressing the seminar focused that how ideology, money and caste community effect electoral behaviour in India. He added that national and regional elections use different strategies.
Prof. A.S. Narang in his valedictory address said that regional parties are gaining significance in current electoral scenario. He also cautioned that politics based on populism is taking precedence over issues of public importance.
Prof. Emanual Nahar, the coordinator of the conference, informed that many renowned scholars namely Prof. Mujibur Rehman, Prof. A.D. Mishra, Dr. Sanjiv Kumar, Prof. Khalid Mohamed, Dr.Mudrain from different universities presented their very insightful papers during this conference.
https://demokraticfront.com/wp-content/uploads/2019/02/Press-Note-9-1-1.jpg
1098
2096
Demokratic Front Bureau
https://demokraticfront.com/wp-content/uploads/2018/05/LogoMakr_7bb8CP.png
Demokratic Front Bureau
2019-02-25 13:13:06
2019-02-25 13:13:09
'Youth to give back to the Nation' – Manpreet Singh Badal