Panjab University celebrated Surya Saptami
Chandigarh February 12, 2019
The Interdisciplinary Centre for Swami Vivekananda Studies in collaboration with Department of Physical Education, Panjab University celebrated Surya Saptami by offering salutation to the most powerful source of energy in this cosmos. Prof. Nandita while highlighting the importance of inner and outer harmony for a more positive life inspired the youth to form the habit of doing this everyday. She said that Surya Namaskara was organized to motivate youth towards a healthier lifestyle. Hindus consider Sun as an important God. Sun worship is needed for the physical and mental well-being of an individual, she added.
            Prof. Devinder Singh, Secretary to Vice Chancellor, Panjab University inaugurated the event and congratulated the organisers for taking this initiative and encouraged students, research scholars, faculty and office staff of the university who participated in the event.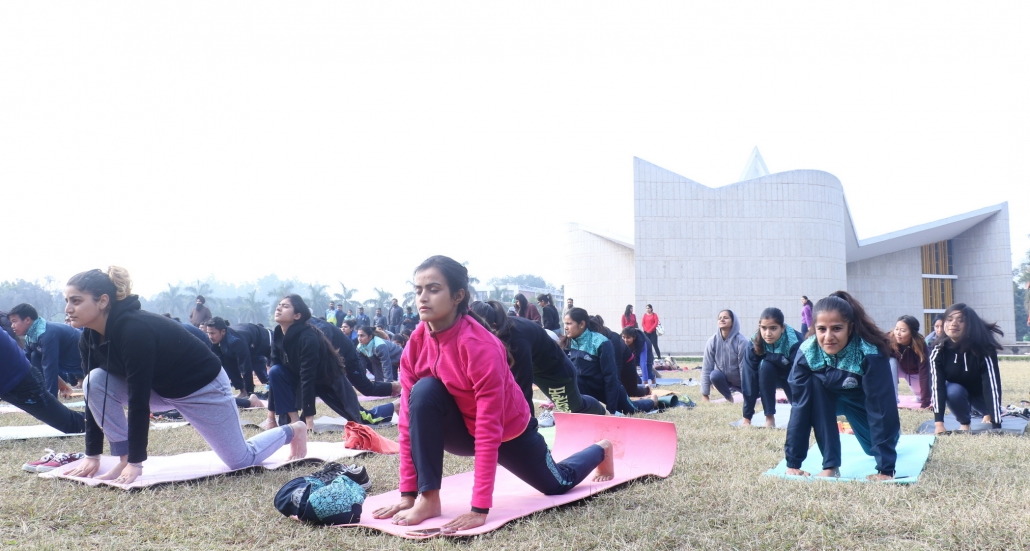 Surya Namaskar is a good way to keep healthy body and peaceful mind and regular practice of Surya Namaskara promotes balance in the body, improves blood circulation, strengthens the heart, tones the digestive tract, stimulates abdominal muscles, respiratory system, lymphatic system, spinal nerves and other internal organs, Tones the spine, neck, shoulder, arms, hands, wrist, back and leg muscles, thereby promoting overall flexibility, Psychologically, it regulates the interconnectedness of body, breath and mind, thus making one calmer and boosting the energy levels with sharpened awareness. Ashu Pratap and Ravinder Kumar guided the participants in performing the different postures while focusing on breath with chanting of mantra.
Prof Anju Suri, Chairperson, Department of History, Mrs Renuka B. Salwan Director Public Relations, Dr Priyatosh, Dr. Nandlal, Dr Monika, Dr Gaurav participated alongwith their students and showed lot of enthusiasm for organising such events in future also.
More than 100 people participated in the event which was held in front of Gandhi Bhavan.
https://demokraticfront.com/wp-content/uploads/2019/02/Press-note-4-photo2-1.jpg
1665
2096
Demokratic Front Bureau
https://demokraticfront.com/wp-content/uploads/2018/05/LogoMakr_7bb8CP.png
Demokratic Front Bureau
2019-02-12 12:59:53
2019-02-12 12:59:58
Panjab University celebrated Surya Saptami