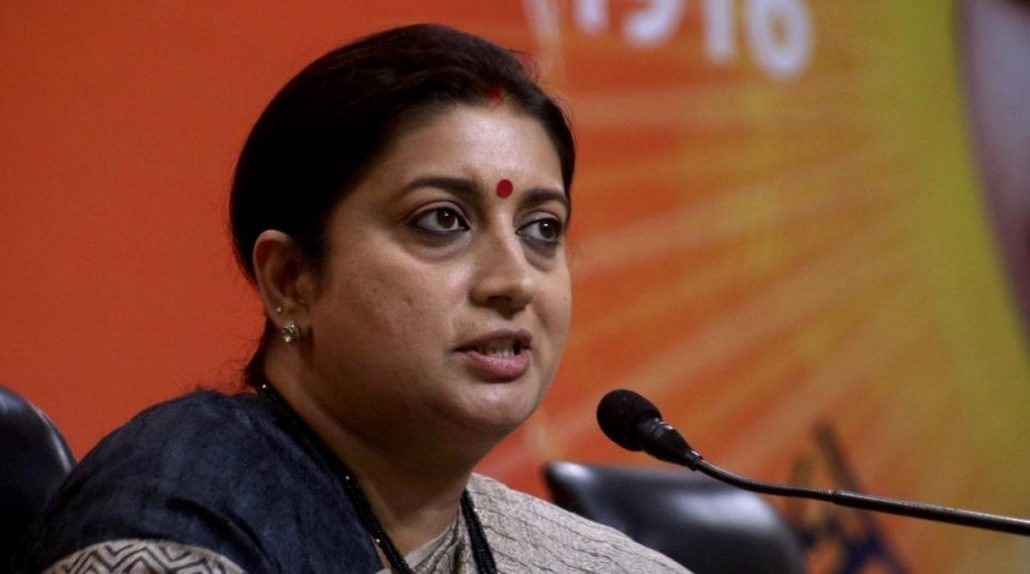 ---
Hours after triggering a controversy with her comment on the issue of allowing menstruating women entry into the Sabarimala temple, Union Textiles Minister Smriti Irani took to Twitter to present her case.
Stating that she is a practicing Hindu married to a Zoroastrian, Irani said she respects the stand by the Zoroastrian priests not to allow any non-Parsi woman entry into a fire temple.
"As a practising Hindu married to a practising Zoroastrian I am not allowed to enter a fire temple to pray. I respect that stand by the Zoroastrian community / priests and do not approach any court for a right to pray as a mother of 2 Zoroastrian children. Similarly Parsi or non Parsi menstruating women irrespective of age DO NOT go to a Fire Temple," she wrote in a series of tweets.
Irani stressed that everything other than the statement she made in the tweets are "propaganda or agenda".
"These are 2 factual statements. Rest of the propaganda / agenda being launched using me as bait is well just that … bait," the minister added.
Commenting on her remark that people do not take sanitary napkins soaked in menstrual blood into a friend's home, Irani said that she is yet to find anyone who would do that.
"As far as those who jump the gun regarding women visiting friend's place with a sanitary napkin dipped in menstrual blood — I am yet to find a person who 'takes' a blood soaked napkin to 'offer' to any one let alone a friend," wrote Irani.
Before signing off, Irani claimed that the criticism coming her way due to the remarks made by her fascinates her that she is not free to air her own point of view as long as it is not the 'liberal' point of view.
"But what fascinates me though does not surprise me is that as a woman I am not free to have my own point of view. As long as I conform to the 'liberal' point of view I'm acceptable. How Liberal is that ??" tweeted Irani.
The minister, who is a member of the Rajya Sabha from Gujarat, also posted a link to the video from the event where she commented on the Sabarimala temple issue.
The Bharatiya Janata Party (BJP) leader had earlier today commented on the on the entry of women within a particular age group in the Sabarimala temple at the Young Thinkers' Conference organised by the British Deputy High Commission and the Observer Research Foundation in Mumbai.
"It is plain common sense. Would you take sanitary napkins soaked in menstrual blood into a friend's home? You will not. And do you think it is respectful to do the same thing when you walk into the house of God? So that is the difference. That is my personal opinion," Irani said, adding that she cannot comment on the Supreme Court verdict because she is a serving cabinet minister.
Her remarks were criticised by many.
Delhi Commission for Women Chairperson Swati Maliwal slammed Irani for her "shameful comment".
"Shameful comment by Smriti Irani. Is menstruating woman only a sanitary pad 4 this lady? When she has periods, doesn't she go out of her house? Doesn't go 2 her friend's place? Without periods, can there be babies? Horrible words reinforcing patriarchy & misogyny by a Minister!" she wrote on Twitter.
Congress national spokesperson Priyanka Chaturvedi questioned Irani for the remark.
"Forget the places of worship for a minute but as per this shocker of a statement from you should menstruating women be sent to a kaal kothri the days that she bleeds, Ms Irani? You endorse the age old taboos associated to periods? Shame!" wrote Chaturvedi on Twitter.
When Michael Safi, the South Asia correspondent of The Guardian, quoted the Union minister on the Sabarimala issue, Irani called it "fake news" and said that she will post a video soon.
https://demokraticfront.com/wp-content/uploads/2018/10/Smriti-Irani.jpg
669
1200
Demokratic Front Bureau
https://demokraticfront.com/wp-content/uploads/2018/05/LogoMakr_7bb8CP.png
Demokratic Front Bureau
2018-10-23 15:30:10
2018-10-23 15:30:10
Yet to find a person who 'takes' blood soaked napkin to 'offer' to anyone: Smriti Irani