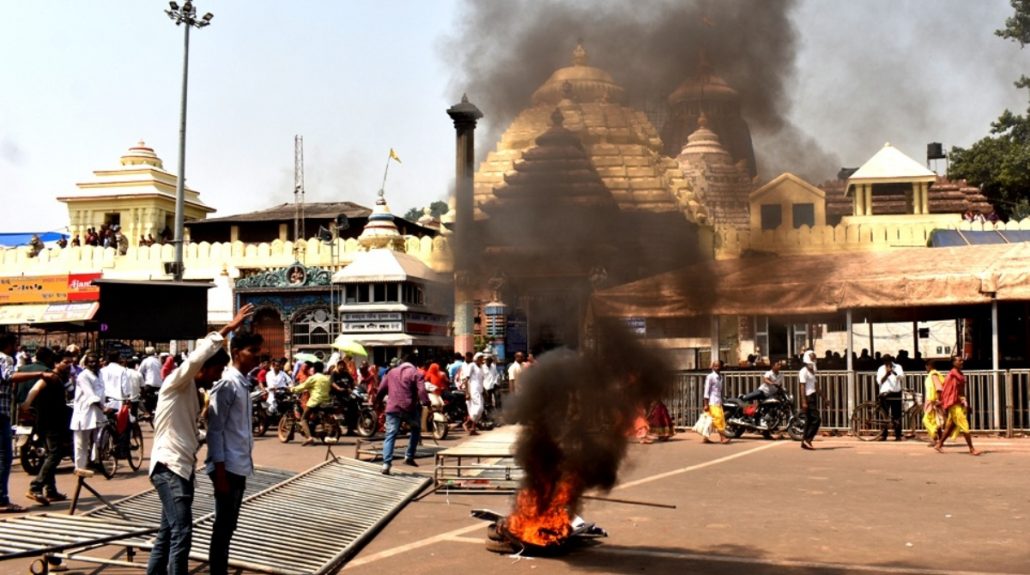 ---
It is deeply to be regretted that Puri's Jagannath Temple should be reduced to an object of fury on the part of devotees, aided and abetted by the servitors. Indeed, last Wednesday's vandalism was tacitly condoned by the latter, the spirited footsoldiers of a vigorous faith and a segment that has traditionally controlled ingress and egress to the holy of holies.
Not wholly unrelated is the financial spin-off from donations. Both groups appear to have conveniently overlooked the imperative of the queue system, which is integral to the Supreme Court directive on temple reforms. The system, that was introduced last Monday, is intended to impart a scintilla of discipline at the time of entry and exit, given that hundreds of thousands visit the unique Jagannath Temple each day, where rituals are performed from 4 a.m. to midnight.
In the vicinity of the sea, the shrine shares the honour of a tourist attraction in Incredible India. The violence over queues spearheaded by a certain entity called Jagannath Sena has made a mockery of the shrine's sanctity. A hitherto innocuous group has demonstrated its destructive potential. Ransacked was the office of the Shree Jagannath Temple Administration, the home of the Puri MLA and revenue minister, the temple's metal barricades were dismantled, a traffic post was set on fire.
In a word, the mob smashed everything they could lay their hands on. In the event, Jagannath Temple witnessed the worst both in terms of mob fury and police action ~ lathi-charge and the firing of tear gas. Clearly, the agitators have gone on overkill in protest against an apex court order and its execution.
The extent of the mob frenzy makes it plain that a section of the devout had responded with far greater indignation than they were entitled to. Wednesday's Puri bandh was thoroughly uncalled for. The Supreme Court's reforms package is central to the crowd-control strategy and there can be no two opinions on maintaining discipline at the time of entry to and exit from the temple. And the judiciary's directive will have to be adhered to. It lends no scope for mob frenzy as the seaside town suffered this week. Sad to reflect, neither the temple authorities nor the district administration could anticipate the pent-up rage of the mob over the queue system.
And yet there exist several other issues that cry out for urgent attention. Not least the system of donations that offers the pandas a 35 per cent spinoff. Small wonder there has been vehement opposition to the move to place donations in hundis.
And in the face of the 24 X 7 cordon sanitaire around the temple, the chief deterrent is arguably not the thought of queueing up, but the harassment by servitors and sevayats. No less a matter of concern is the appalling level of hygiene and sanitation within the temple complex. There are issues close to the bone that direly need to be addressed.
https://demokraticfront.com/wp-content/uploads/2018/10/Jagannath-Temple-violence.jpg
670
1200
Demokratic Front Bureau
https://demokraticfront.com/wp-content/uploads/2018/05/LogoMakr_7bb8CP.png
Demokratic Front Bureau
2018-10-08 17:00:28
2018-10-08 17:00:28
Jagannath Sena has made a mockery of the shrine's sanctity