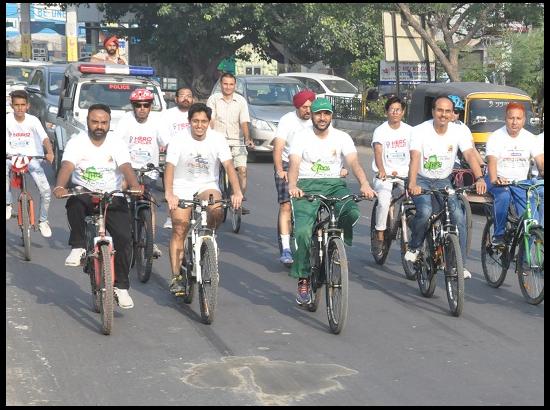 Sea of humanity today converged at local Guru Gobind Singh stadium to join the Deputy Commissioner Jalandhar Mr. Varinder Kumar Sharma, Commissioner of Police Mr. Gurpreet Singh Bhullar, Municipal Corporation Commissioner Mr. Diperva Lakra and Senior Superintendent of Police Mr. Navjot Singh Mahal for disseminating the message of clean, green and pollution free Jalandhar during peace march (Walkathon) and Cyclothon, to commemorate birth anniversary of Mahatma Gandhi.
During the grand event held under the aegis of 'Tandarust Punjab Mission' and Swachhta Mission was jointly organized by the district administration and Municipal Corporation. Several renowned private players like HDFC bank, Radio City, Pukhraj, Hero Cycles and others sponsored the event that saw public participation from all walks of life.
Addressing the gathering the Deputy Commissioner, Commissioner of Police, Municipal Commissioner and Senior Superintendent of Police said that this mass movement was aimed at galvanizing the support of people for disseminating the message of cleanliness in the district.
They said that the main thrust of the campaign was to ensure that people were made aware of the fact that cleanliness of the city and their surroundings was duty of everybody. They said that every one of us especially the youth must come forward for perpetuating the life and philosophy of the father of nation by imbibing the ethos of non-violence, harmony and cleanliness in their lives.
They further said that the life, philosophy and sacrifice of Mahatma Gandhi would act as a lighthouse and continue to inspire us all for rendering selfless service to the community, society, state and the country.
The officers also thanked the people for extending fulsome support and cooperation to them in this noble cause. They expressed hope that the active support and cooperation of the people Jalandhar would soon emerge as a clean, green and pollution free district.
Meanwhile, the Deputy Commissioner and Commissioner of Police led the cyclothon that started from Guru Gobind Singh Stadium and culminated at the same place after passing through Guru Amar Dass Chowk, Guru Nanak Mission Chowk, Dr. Ambedkar (Nakodar) Chowk, Football Chowk , Kapurthala Chowk, Workshop Chowk and Burlton park. Similarly, the Municipal Corporation Commissioner and Senior Superintendent of Police led the peace march (walkothon) that commenced from Guru Gobind Singh Stadium and culminate back there after passing through Chun-Mun Chowk, APJ School, BMC Chowk, Namdev Chowk, Skylark Chowk, Guru Nanak Mission Chowk and Milk Bar Chowk.
Earlier, Additional Deputy Commisisoners Mr. Jitendra Jorwal and Mr. Jasbir Singh, Sub Divisional Magistrate Mr. Paramveer Singh, Joint Commissioner Municipal Corporation Ms. Aashika Jain and Assistant Commissioner Mr. Himanshu Jain welcomed the senior officers.
On the occasion famous Punjabi Singer Master Salim also regaled the audiences and appealed them to tread the path shown by Mahatma Gandhi.
Prominent amongst others present on the occasion included District Sports Officer Mr. Balwinder Singh, District Guidance Counselor Mr. Surjit Lal, District Coaches Mr. Harjinder Singh, Mr. Umesh Sharma and Mr. Varun Kumar, Mr. Ashok Nahar and others.
https://demokraticfront.com/wp-content/uploads/2018/10/jald.jpg
410
550
Demokratic Front Bureau
https://demokraticfront.com/wp-content/uploads/2018/05/LogoMakr_7bb8CP.png
Demokratic Front Bureau
2018-10-03 12:34:33
2018-10-03 12:34:33
'Tandarust Punjab Mission' and 'Swachhta Mission' was jointly organized by the district administration and Municipal Corporation