Bathinda convention today: It's Sukhpal Khaira versus Arvind Kejriwal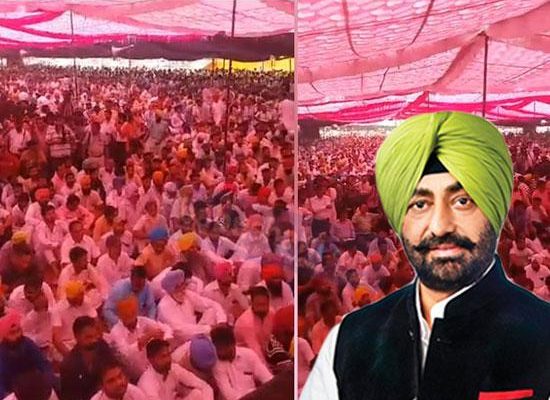 ---
Khaira group declares AAP Punjab unit autonomous
Rejects Cheema's appointment as leader of Oppn; 11 AAP MLAs rush to Delhi in protest
---
In a virtual act of rebellion, the Bathinda convention of dissident AAP MLAs led by Sukhpal Singh Khaira on Thursday unanimously "granted autonomy" to the party's Punjab unit, which will now take its own decisions and constitute the new party structure.
These decisions were taken by passing a series of resolutions at the end of a well-attended convention of the party's volunteers. Khaira-led group put up a "show of strength" by holding a convention of volunteers after he was recently removed from the post of Leader of Opposition.
Meanwhile, in a major blow to Khaira, 11 AAP MLAs have reached Delhi to meet Arvind Kejriwal and Manish Sisodia in protest.
The rally pandal in Bathinda was packed to capacity and people were seen standing and still others seen coming in support of Khera to attend the rally. Those present at the Bathinda convention are Kanwar Sandhu, NS Mansahia, Jagga Hissowal, Pirmal Singh, J Kamalu and Master Baldev.
Kharar MLA Kanwar Sandhu read out resolutions at the end of the convention for seeking consent of the volunteers. Another resolution unanimously dissolved the existing "incompetent party organisational structure, which has eroded the party's image and base in the state".
The convention also gave the right to the organisers and the MLAs present to prepare a blueprint of the new party structure. Another resolution flayed the undemocratic removal of Khaira as Leader of Opposition and imposing a new leader. The resolution rejected the appointment of the new Leader of Opposition, Harpal Singh Cheema, while demanding that a meeting of the AAP MLAs be called within a week and new LoP be elected.
The convention also directed the organisers and MLAs to plan their district-level programmes, starting from Hoshiarpur on August 12. The volunteers were appealed to not to resort to any violent act and carry out their work peacefully.
Earlier, addressing an impressive gathering, Khaira exhorted the volunteers to give them the right to build up a third front in the state by forging alliance with the like-minded parties so as to rid Punjab of the the Congress and the SAD, both of which have "ruined the state in the last three decades". He said they will kick off their campaign in this regard by paying obeisance at the Golden Temple.
Khaira blamed the approach of the party's Delhi bosses for the AAP's defeat in the last Assembly polls. He said they had sent their two leaders who put the future of Punjab at stake for their egos, as a result of which the party ended up sitting in the opposition. He said the duo was still dictating terms in the party's Punjab affairs.
Addressing the convention, Kanwar Sandhu blamed wrong distribution of tickets in the 2017 Assembly polls for the party's defeat. He even alleged that the party tickets were sold and an inquiry should be held to find out who all were involved in it.
https://demokraticfront.com/wp-content/uploads/2018/08/Sukhpal-Khaira-speech-Bathinda-convention-550x400.jpg
400
550
Demokratic Front Bureau
https://demokraticfront.com/wp-content/uploads/2018/05/LogoMakr_7bb8CP.png
Demokratic Front Bureau
2018-08-02 15:14:18
2018-08-02 15:14:18
Bathinda convention today: It's Sukhpal Khaira versus Arvind Kejriwal