How BJP became the richest political party in the world in four years: Congress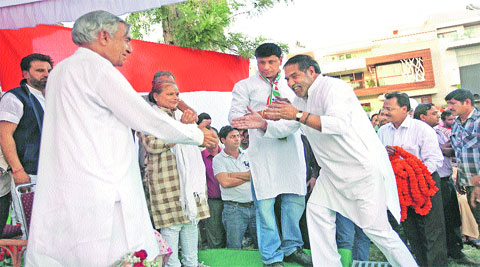 ---
Anand Sharma advised Modi to talk sensibly and remarked Modi's DNA
---
New Delhi:
The Congress continued to target Prime Minister Narendra Modi over his speeches in Lucknow last week, saying he should "stop dramatising" poverty.
Congress leader Anand Sharma told reporters here that speaking was part of Modi's DNA and if he does not give speeches, "it probably can affect his health".
Noting Modi shapes his address according to the composition of the audience, he said: "The prime minister should stop this drama of poverty. He should not play with sentiments of the poor. He cheated people with these sentiments in 2014 elections. Now it is time to give an account of his performance." Sharma said.
He said Indian's first prime minister Jawaharlal Nehru was from an affluent background but he left everything and adopted khadi, while Modi was the first prime minister who wears "such good clothes" and changes his dress often.
Sharma said former prime minister Lal Bahadur Shastri was from a humble background but never mentioned about the poverty he faced while occupying the high post, while all the others from Indira Gandhi to Manmohan Singh life with simplicity.
Modi had said in a speech on Saturday in Lucknow that poverty had given him honesty and courage.
Sharma also referred to Modi's remarks in Lucknow that he was "not afraid of" publicly standing beside industrialists because his intentions were "noble" and accused him of making baseless allegations against the Congress, which has never insulted the captains of Indian industry nor used abusive words.
"He (Modi) should talk responsibly. Congress Party has always encouraged industrialisation, investment, capital formation and redistribution of the capital for the common good. That has been the governing philosophy and the ideology of the Congress and the successive governments and that is why this country had seen unprecedented growth during our time," he said.
He also said Modi should answer how BJP became "the richest political party in the world in four years".
---
walk talk : It is the party not the leaders alike others who became the richest without any business.
https://demokraticfront.com/wp-content/uploads/2018/07/anand-sharma-medium.jpg
267
480
Demokratic Front Bureau
https://demokraticfront.com/wp-content/uploads/2018/05/LogoMakr_7bb8CP.png
Demokratic Front Bureau
2018-07-31 03:53:23
2018-07-31 03:53:23
How BJP became the richest political party in the world in four years: Congress