Mark my words BJP will get maximum 150 in 2019: Mamta Banerjee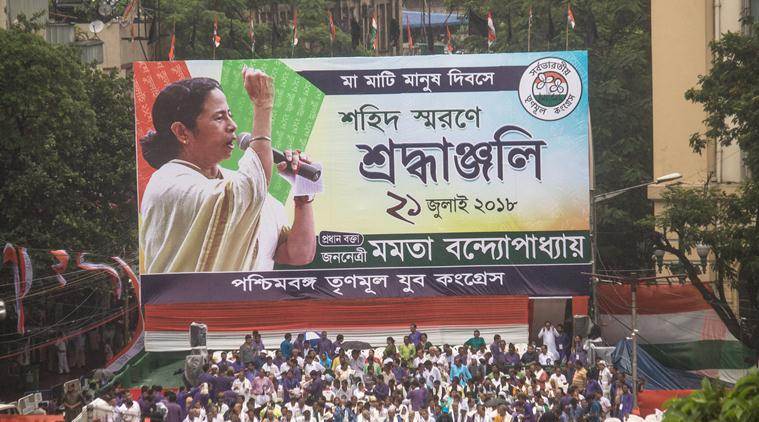 ---
Announces mega rally in brigade parade ground on January 19, where she will call opposition political leaders for the initiation of  "The Federal Front"
---
A day after the Narendra Modi-led NDA government defeated the no-confidence motion in Lok Sabha, Trinamool Congress chief Mamata Banerjee said that the BJP have no numbers outside the House and will be ousted from power in 2019 by a federal front alliance of regional parties.
Mamata Banerjee also announced a mega rally to be held in the iconic Brigade Parade Ground on January 19 where she will invite all opposition political leaders for the initiation of the federal front against BJP.
"On January 19 in brigade parade ground, we will hold a mega rally. The rally will mark the beginning of BJP end. I will call all political leaders (opposition parties). It will mark the beginning of the federal front. Bengal will show the path in the Lok Sabha polls. But we are not hungry for chair," she said.
Speaking at the 25th anniversary of 'July 21 TMC Martyr's Day' at Esplanade situated in the heart of Kolkata, the TMC supremo said that the no-confidence motion showed how the party is fast losing numbers and allies.
"Yesterday, BJP somehow managed to slip through no-confidence motion by 325:126 votes. They somehow managed to get the numbers inside the House. Those are 2014 numbers. In 2019, they will be ousted. They pulled it off because of AIADMK's support. Had Jayalalithaa been alive, BJP would have never got their vote. But they lost their oldest ally Shiv Sena. BJP is fast losing numbers and allies. They won the no-confidence motion through 'acquaintances'," Mamata Banerjee said.
"M K Stalin (DMK working president) will defeat AIADMK in Tamil Nadu. In UP, if Akhilesh and Mayavati come together, their alliance will win 50 of the 80 seats. In Madhya Pradesh, they had got 28 seats but this time they will not win even 8 seats. In Rajasthan, they won 25 seats but this time they will not even win 5 seats there. In Gujarat, they will get zero. In Bihar, Laluji will grasp all the seats. In West Bengal, people will show them the doors. In Odhisa Navin Patnaik will get the seats. In Punjab, Amarinder Singh will thwart them. Where will they get the seats," said Mamata Banerjee.
"Now they (BJP) have 325 (Lok Sabh seats). I doubt they can cross 100 in 2019 (Lok Sabha polls). They will get maximum 150. They will not get the majority. Mark my words," said Mamata Banerjee.
She stated that BJP and NDA had started to disintegrate. "Yesterday, the allies did not vote for them. Shiv Sena, their ally did not vote for them.
Bengal chief minister also targeted BJP on raging issues like lynchings and farmer suicides. "Lynchings have become so common which shows the way they are preaching hatred among the people. They are changing the names of the railway stations. I do not hate the old-timers of the BJP-RSS as they do not play such dirty games. They are not like the Talibanis that rule the country today. Hundreds of people have been killed in Uttar Pradesh in the name of encounters. More than 12,000 farmers are committing suicide every year," she said.
"It is Bengal where farmers have tripled their income and we also give for a loan waiver. But cant the central government learn from us.
Lakhs of Trinamool Congress workers hit the streets on Saturday and all major thoroughfares were jam-packed. The rally also saw, leaders like Chandan Mitra(former BJP Rajya Sabha member and noted journalist), Ritabrata Bandopadhyay (CPIM Rajya Sabha member) and a number of Congress MLA joining Trinamool Congress.
https://demokraticfront.com/wp-content/uploads/2018/07/martyrs-day1.jpg
422
759
Demokratic Front Bureau
https://demokraticfront.com/wp-content/uploads/2018/05/LogoMakr_7bb8CP.png
Demokratic Front Bureau
2018-07-21 14:25:40
2018-07-21 14:25:40
Mark my words BJP will get maximum 150 in 2019: Mamta Banerjee