LTVs to minorities from Pakistan, Afghanistan and Bangladesh libralised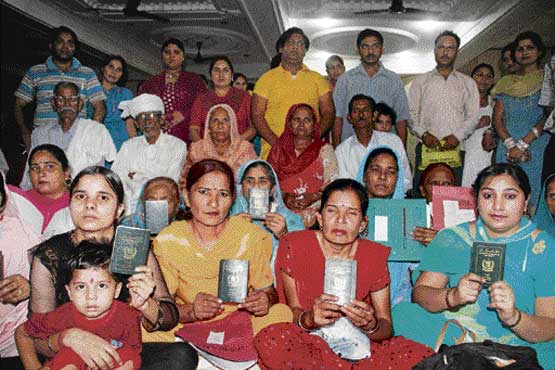 ---
Since 2011, nearly 30,000 Pakistanis have been granted long-term visas and, currently, 1,500 such applications are pending, says Home Ministry
---
The Home Ministry has further liberalised the process for granting long-term visas (LTVs) to minorities from Pakistan, Afghanistan and Bangladesh.
The move comes days after one of its officials was arrested by the Rajasthan Anti-Corruption Bureau for allegedly extorting money from Pakistani Hindu migrants for their visa extension, visa transfer and grant of citizenship.
The Home Ministry has reduced the time limit for security clearance of applicants from 45 days to 21 days.
After an application reaches the central system, it's forwarded to three agencies for verification — the State government, the Intelligence Bureau and the Home Ministry.
"The State government, through the local police, has to run a background check on the applicants who has applied for an LTV. If the State doesn't reply within 21 days, the system will log them out and the application will be deemed to be cleared. If, in future, there is a security implication, the onus will be on the State government," a senior government official said.
Once the replies from all agencies are fed in the system, the application is automatically processed.
A Home Ministry official said that since 2011, nearly 30,000 Pakistanis had been granted LTVs and, currently, 1,500 such applications were pending. The LTVs are precursors to citizenship, based on the report given by the State governments.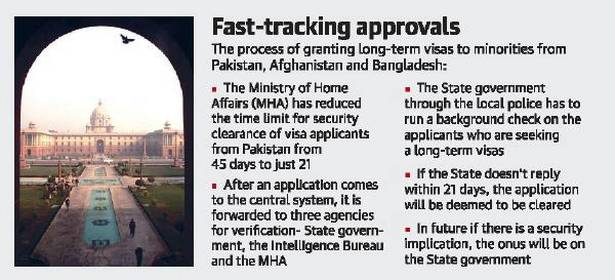 The visa facility, first introduced in 2011 for persecuted Hindus from Pakistan in 2011, was further liberalised after the National Democratic Alliance (NDA) government came to power in 2014. The LTVs granted to Pakistani Hindus from 2011 to 2014 stood at 14,726.
From January 1, 2015 to July 16 this year, 15,244 LTVs were issued.
In 2015, the government granted concessions to Bangladeshi, Pakistani and Afghanistan nationals belonging to the Hindu, Buddhist, Sikh, Christian and Jain communities, who entered India on or before December 31, 2014, in respect of their entry and stay in India without proper documents or after the expiry of relevant documents.
It also empowered revenue authorities in some States, not including Assam, to allow them to register properties and take up employment.
The Citizenship Amendment Bill, 2015 that proposes citizenship to Hindus, Jains, Sikhs, Parsis, Christians and Buddhists from Pakistan, Afghanistan and Bangladesh who came to India before 2014 has hit a hurdle.
There has been strong resistance to the Bill in Assam as it seeks to grant citizenship to non-Muslims from Bangladesh. Several political and civil groups in Assam have said that the Bill will pave the way for granting citizenship to illegal Hindu immigrants from Bangladesh in Assam in violation of the Assam Accord, 1985.
There have been no exact numbers of such minority refugees from these countries but officials put the figure at around 2 lakh Hindu and Sikh refugees from Bangladesh, Pakistan and Afghanistan living in India.
There are 400 Pakistani Hindu refugee settlements in cities such as Jodhpur, Jaisalmer, Bikaner and Jaipur.
Hindu refugees from Bangladesh mostly live in West Bengal and the northeastern States.
https://demokraticfront.com/wp-content/uploads/2018/07/pakistani-hindus.jpg
370
555
Demokratic Front Bureau
https://demokraticfront.com/wp-content/uploads/2018/05/LogoMakr_7bb8CP.png
Demokratic Front Bureau
2018-07-17 02:13:22
2018-07-17 02:13:22
LTVs to minorities from Pakistan, Afghanistan and Bangladesh libralised