don't tax gift to wives, daughters-in law: Menka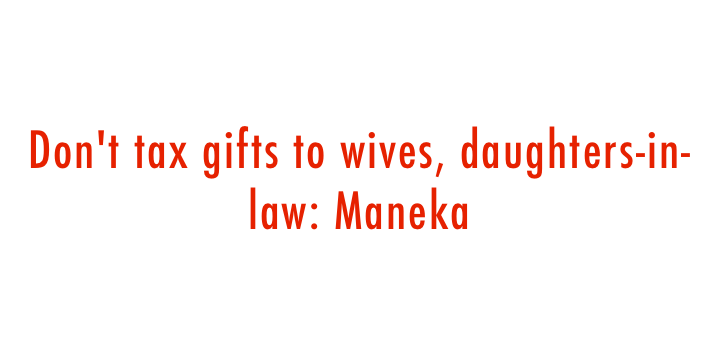 ---
New Delhi, July 10, 2018:
Minister for Women and Child Development Maneka Gandhi has urged Finance Minister Piyush Goyal to make amendments to the Income Tax Act so that gifts to wives or daughters-in-law are not taxed.
"As a society, the onus of ensuring economic empowerment of our women lies on each of us. Following several requests from women, especially wives and daughters-in-law, I have urged the Finance Minister to examine and suitably amend Section 64 of the Income Tax Act," she tweeted.
The Section 64 deals with clubbing of incomes and provides that if a husband gifts an asset to his wife and the asset results in some income to the wife, the income will be added to the taxable income of the husband.
"The provision was originally formulated in 1960s under the assumption that wives and daughters-in-law would normally not have any independent taxable income," the Union Minister tweeted late on Monday.
However, Gandhi said the act was having an adverse effect as women at present were becoming financially more independent.
"Today with women leaving an indelible mark in every field, the Act seems to have an adverse effect.
"It has come to fore through several requests that husbands and fathers-in-law are apprehensive to transfer assets to women in their families because they fear that income accruing from the asset will ultimately become a burden on them," she added.
https://demokraticfront.com/wp-content/uploads/2018/07/download-1.png
159
318
Demokratic Front Bureau
https://demokraticfront.com/wp-content/uploads/2018/05/LogoMakr_7bb8CP.png
Demokratic Front Bureau
2018-07-10 13:52:43
2018-07-10 13:52:43
don't tax gift to wives, daughters-in law: Menka