I assure you, sir, not a single 'lamb' was sacrificed for the vid, let alone 35!":Rathore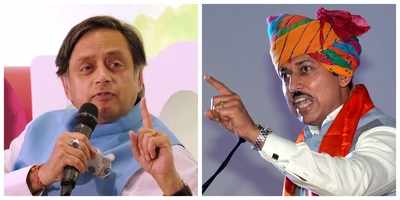 ---
Rajyavardhan Rathore slammed Shashi Tharoor for tweeting a report based on "solid evidence" of hearsay
Earlier today, the Congress leader had tweeted a news report claiming that the Union government has spent Rs 35 lakhs on Pm Modi's fitness video
---
NEW DELHI: I&B minister Rajyavardhan Rathore on Monday slammed Congress leader  Shashi Tharoor and said that no money was spent on PM Modi's fitness video.
The Union minister was responding to Tharoor's tweet which had cited a media report alleging Rs 35 lakh was spent to shoot the video.
The I&B minister took a dig at Tharoor's mention of "lambs" in the tweet and said, "And I assure you, sir, not a single 'lamb' was sacrificed for the vid, let alone 35!"
Earlier today, the Congress leader had tweeted a news report claiming that the Union government has spent Rs 20 crore on advertisements on Yoga Day celebrated on June 21 and Rs 35 lakhs on a fitness video.
On June 13, a week before the Yoga Day, the Prime Minister had tweeted a video of him performing yoga.
"Here are moments from my morning exercises. Apart from Yoga, I walk on a track inspired by the Panchtatvas or 5 elements of nature – Prithvi, Jal, Agni, Vayu, Aakash. This is extremely refreshing and rejuvenating. I also practice breathing exercises. #HumFitTohIndiaFit", was his post to the exercise video.
https://demokraticfront.com/wp-content/uploads/2018/07/64829219.jpg
200
400
Demokratic Front Bureau
https://demokraticfront.com/wp-content/uploads/2018/05/LogoMakr_7bb8CP.png
Demokratic Front Bureau
2018-07-02 15:43:41
2018-07-02 15:43:41
I assure you, sir, not a single 'lamb' was sacrificed for the vid, let alone 35!":Rathore