Jordan Sandhu and Payal Rajput will be seen in Punjabi Film, "Hanji Hanji"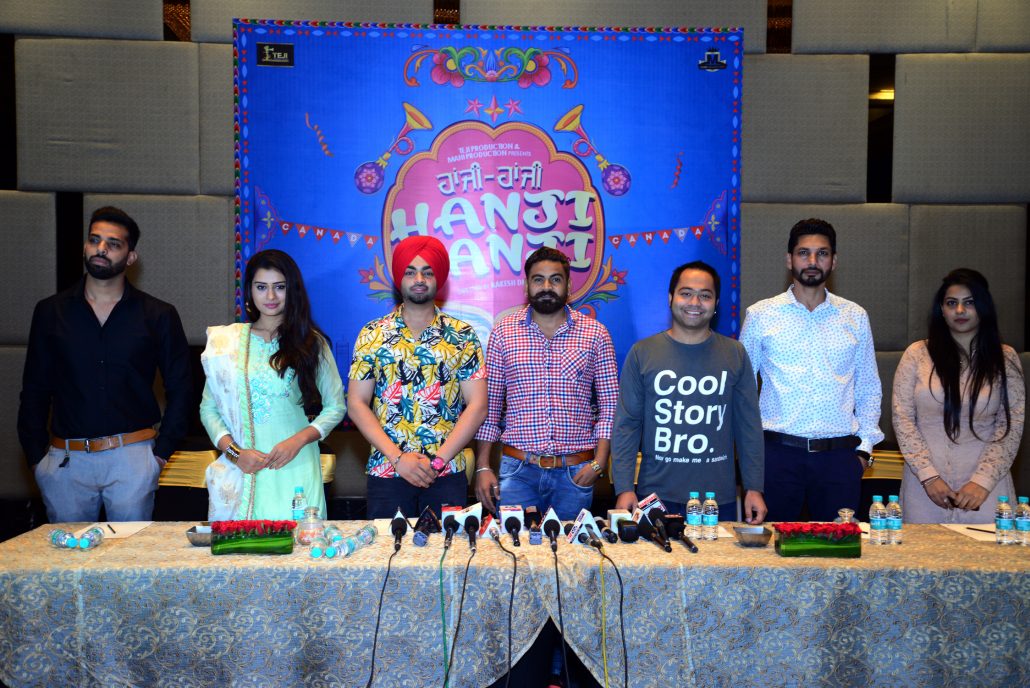 Chandigarh, June 29, Friday 2018 : 
Punjabi cinema which is touching new heights everyday is no longer bound to the limited number artists or boundaries. For the past few years, new artists have brought themselves in front of the audience with lot of good talent and promises and in this kind of era, Punjabi film, "Hanji Hanji" is also going to make a significant mark in the industry. Being made under the banners of Teji Productions and Mahi Productions, the film was announced here in Chandigarh today in a private hotel. Present on this occasion were, the renowned singer Jordan Sandhu, playing the lead, and the actress Payal Rajput, famous bollywood artist, Sumit Gulati, Director Rakesh Dhawan, Producers, Ricky Teji, Deep Sood, Khushwant Singh and Co-Producer, Sukhdev Singh (Next Level Entertainment) and the Executive Producer Miss. Gunjan Chauhan.
On this occasion, the Director Rakesh Dhawan, said, that he has been associated with the entertainment industry from quite a long time. As a writer he has written many comedy and other shows and films as well and he is going to connect with the Punjabi Film Industry now. He further added that he has written so much for Punjabi Films as a writer, but as a Director, this will be his first Punjabi Film. This film is a complete family film whose shooting will be done in Canada and Punjab both. The first schedule of the film will be shot in Canada.
Renowned singer, Jordan Sandhu, said, that this film will show his acting skill in a different manner altogether. The audience will like its concept/subject and his character too. As per Jordan, this film is going to make his name in the industry. Infact he has finished the shooting of one punjabi film but this film is surely going to mark my presence in this industry. Got famous from her punabi film, "Channa Mereya", the lead actress Payal Rajput is quite enthusiastic being a part of this film and said that the audience will be happy to see me in two different shades in this film. Payal, has complete trust in the Director and the Producers of this film, that they do full justice to the film and with the audience too. Sumit Gulati, the famous bollywood arist, also added that the audience loved my work in punjabi film, "Golak Bugni Bank Te Batua" and this love is the only reason he is a part of this film as well. This film will actually entertain its audience completely. His character in the film will actually tickle the audience with laughter. This is Producers Ricky Teji, Deep Sood, Khushwant Singh and Co-Producer, Sukhdev Singh (Next Level Entertainment) first Film. After having spent a good amount of time with the renowned personalities of the film industry, the producers chose this subject and selected the artists. They have full belief, that the audience will like this film a lot. There are couple of other renowned artists in this film whose names will also be revealed soon. The audience will also listen to the heart touching music also in this film.
https://demokraticfront.com/wp-content/uploads/2018/06/DSC_4356.jpg
1500
2247
Demokratic Front Bureau
https://demokraticfront.com/wp-content/uploads/2018/05/LogoMakr_7bb8CP.png
Demokratic Front Bureau
2018-06-29 14:00:24
2018-06-29 14:04:17
Jordan Sandhu and Payal Rajput will be seen in Punjabi Film, "Hanji Hanji"