Moods Swing of Siddaramaiah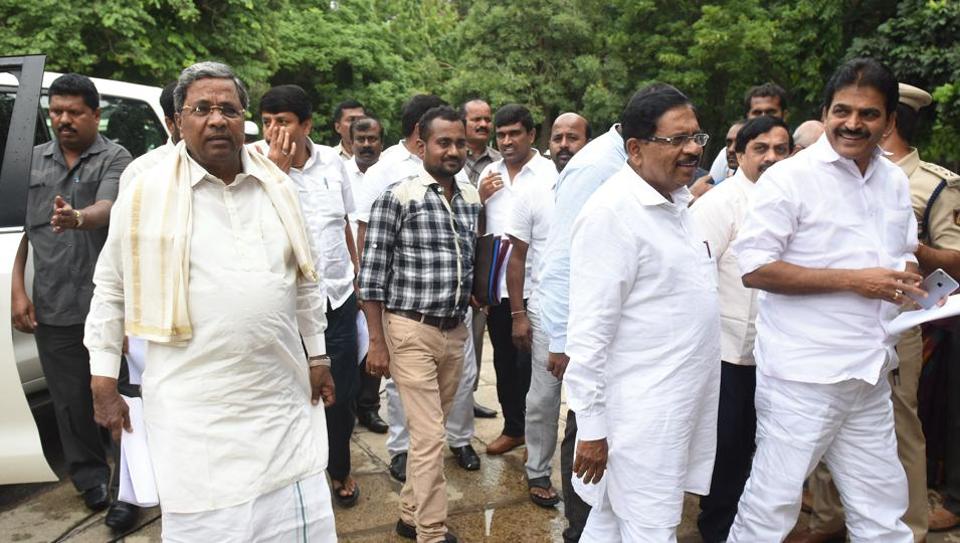 ---
By taking on Deve Gowda, family, Siddaramaiah making life difficult for already-shaky JD(S)-Congress alliance.
---
When the Janata Dal (Secular) and Congress cobbled together a coalition government in Karnataka a month ago, Opposition leaders danced and sang paeans to their unity. From across India, a dozen leaders flew to Bengaluru to consummate the alliance. They exulted over a mahagathbandhan they claimed the alliance would herald to take on the Bharatiya Janata Party when India goes to polls in 2019.
Outgoing Congress chief minister Siddaramaiah and JD(S) head honcho HD Deve Gowda — long-time sworn enemies — hugged and smiled for the cameras. But few were fooled, and one question remained upfront: What would Siddaramaiah do after losing the chief minister's post to Gowda's son HD Kumaraswamy in an unexpected spin of fortunes?
Siddaramaiah answered that question on Sunday by way of a "leaked" video of his confabulations with a few Congress MLAs. In the clip —there is no reason to doubt its authenticity — he flings barbs at Kumaraswamy for deciding to present a full budget instead of a supplementary one and for going ahead with his promised waiver of farm loans. There is no need for both, according to Siddaramaiah, who says he had already presented the 2018-19 budget and waived farm loans to some extent. This is ample proof, if proof is needed, that the former chief minister is in a vile mood to take on the Gowda family once again to settle old scores.
In another video "leaked" on Tuesday, Siddaramaiah expressed doubts about whether the Congress-JD(S) coalition would last beyond the 2019 Lok Sabha elections.
On his part, Kumaraswamy is not taking things lying down. He made it clear that nothing could stop him from presenting a full budget and waiving loans. "I am not at the mercy of anybody," the Karnataka chief minister said.
In the taped conversations, Siddaramaiah was careful to not take potshots at Congress President Rahul Gandhi. He even advised MLAs against holding secret pow-wows against the party. This hints at the possibility that his camp may have deliberately leaked the tapes to make it clear that his quarrel, at least for the time being, is with Gowda's "appa-makkala paksha" (father-son party) and not with the Congress high command.
The BJP is not content with just enjoying the show from the sidelines. The grapevine is, once again, abuzz with rumours that the party is waiting to have another go at forming a government with defectors. After a quick visit to Ahmedabad to meet BJP chief Amit Shah, state unit president BS Yeddyurappa only said: "We'll wait and watch."
At least 14 Congress-JD(S) MLAs must resign from their seats for the government to fall, and that is not easy.
Things have not reached — not as yet at least — a stage where Siddaramaiah will round up enough legislators around himself to overthrow the government. But there is little doubt that he will make the government's functioning anything but smooth. At least for some time, Kumaraswamy must live with the irony of facing trouble from Siddaramaiah, the very man whose job as the head of the Coordination Committee is to ensure the government's smooth running.
Siddaramaiah's enmity with Gowda is no ordinary affair. It's of a feudal kind spanning decades, with deep-rooted loyalty turning into an intense hostility over time. As part of one janata avataror the other, Siddaramaiah had been Gowda's trusted protégé for 20 years from 1985. A backward-class Kuruba, he had complemented Gowda's credentials as an upper-caste Vokkaliga strongman.
But Siddaramaiah now chafes at the memory of Gowda depriving him of the chief minister's post twice. In 1996, when Gowda, then Karnataka's chief minister, became an "accidental" prime minister, he chose JH Patel as his successor in the state, bypassing Siddaramaiah. Again in 2004, when the JD(S) and Congress formed a coalition government, Gowda gave Siddaramaiah the brush-off.
With Gowda promoting his own son Kumaraswamy, Siddaramaiah saw no future for himself and began to challenge the family. Kicked out from the JD(S) in 2005, he joined the Congress the next year. It was hardly surprising that during last month's Assembly elections, each tried to destroy the other politically. And when Rahul Gandhi later thrust the alliance on his local leaders, it was only a matter of time before cracks showed up.
There is also little doubt that the mess that the Congress finds itself in is largely of Rahul's making. Despite the drum-beating by Congress admirers and fake intellectuals of the Left-leaning kind who claim Rahul has developed into a mature politician capable of taking on Narendra Modi, he continues to suffer from an appalling lack of political understanding. From the start, his handling of the Karnataka affairs reeked of the clumsiness of a rookie.
To begin with, Rahul let Siddaramaiah run riot in the state with his so-called identitarian politics, ridiculous populist schemes and a bizarre move to make upper-caste Lingayats a seperate religious minority, none of which helped the party in the Karnataka elections. He even gave Siddaramaiah considerable freedom to choose election candidates. That now gives Siddaramaiah a little group of his own among the elected MLAs.
Once the party lost the elections, Rahul nearly dumped Siddaramaiah, giving him only a minimal role in making key decisions, whether it was the matter of aligning with the JD(S) or the constitution of the government. Worse, a few of his supporters made it to the government.
Besides, by surrendering to every whim of Gowda, Rahul has jeopardised the future of many in the Congress, especially in the Old Mysuru region where both parties compete for the same vote bank.
Rahul perhaps patted his own back for the decision to make Siddaramaiah the head of the Coordination Committee and keeping him quiet, without realising that he was only giving him a nice platform from where he could throw tantrums.
Siddaramaiah is left with little choice now other than to make noise to embarrass the Gowda family and Rahul. Expecting him to nod his head and follow the leader at this stage amounts to living in a fool's paradise.
https://demokraticfront.com/wp-content/uploads/2018/06/878111355-KarnatakaCOngressJDSAlliance_6.jpg
450
980
Demokratic Front Bureau
https://demokraticfront.com/wp-content/uploads/2018/05/LogoMakr_7bb8CP.png
Demokratic Front Bureau
2018-06-27 16:15:19
2018-06-27 16:15:19
Moods Swing of Siddaramaiah