Row over hijab in Catholic Institute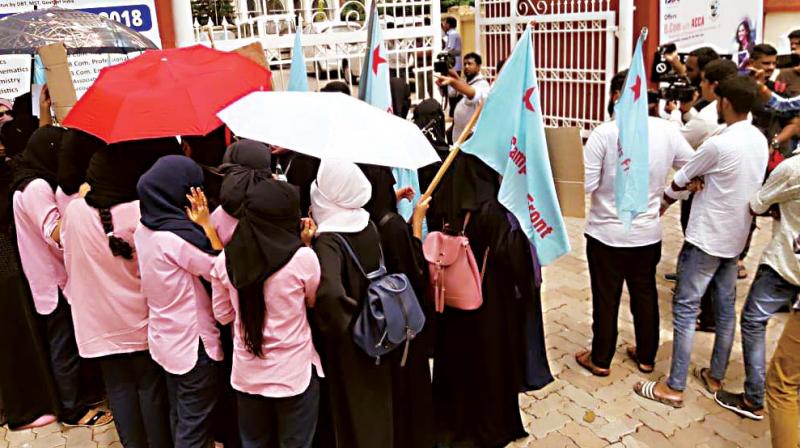 ---
Principal Sr Jeswina in a statement said the rules were in place to maintain discipline.
---
MANGALURU: Several Muslim students of St Agnes College which is a Catholic institution which provides higher education for women in South India.in the city boycotted classes and went on an indefinite protest on Monday after a faculty member allegedly objected to three students wearing headscarf inside the classroom. The agitation was staged under the banner Campus Front of India (CFI), a students wing of Popular Front of India (PFI) demanding their right to wear hijab. Fathima, a student of the college, told media persons that they were earlier allowed to wear the scarf and the issue was not as big as it is made out to be now.
"CFI tried to get in touch with the college authorities two days ago to talk to them about the rule, very politely. They (college authorities) did not listen to them. When we asked them about our rights, they did not listen to us too," she said. She said all the Muslim girls of St Agnes institution will boycott all the classes to their right to wear the hijab is restored. A faculty of the college on condition of anonymity said though there has always been a rule in the institute prohibiting hijab, some girls had continued to wear them.
"Earlier, students would comply to teachers' instructions about the dress code. This protest was provoked by someone from outside the college. There is a group formed with 200 members which include outsiders who work at polarising the college students on religious lines."State CFI member Riyaz said: "College students wear Hijab over their prescribed uniforms. However, this year, students were asked to remove scarves," He pointed out to the hypocrisy of those running the institution wearing their religious clothing.
Principal Sr Jeswina in a statement said the rules were in place to maintain discipline. "Accordingly the college rule states that the students are not permitted to wear headscarves inside the classroom only. However, we have no objection if they wear it outside the classrooms. The students and their parents are aware of this rule while seeking admission in our college. Yet a few students have gone on a protest without even submitting a memorandum. If there is an issue with any student, the management will settle the matter with the students and their parents," she said.
https://demokraticfront.com/wp-content/uploads/2018/06/dc-Cover-bsnudco08r3igtj44duecnr7m4-20180626065952.Medi_.jpeg
448
800
Demokratic Front Bureau
https://demokraticfront.com/wp-content/uploads/2018/05/LogoMakr_7bb8CP.png
Demokratic Front Bureau
2018-06-26 03:10:12
2018-06-26 03:10:12
Row over hijab in Catholic Institute