Dr SP Singh Oberoi has saved 15 Indians, including 14 Punjabis, from the gallows in UAE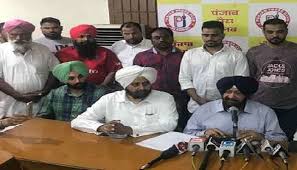 Dubai-based hotelier Dr SP Singh Oberoi has saved 15 Indians, including 14 Punjabis, from the gallows in UAE and brought 14 of them back home to reunite with their families. Dr. Oberoi presented the youth in front of the media on Friday at a press conference in Jalandhar.
Some of them were meeting their families after 8-9 years. The youth were sentenced to death in two separate cases of murder, one of a Pakistani national and the other from Uttar Pradesh. "Blood money" was paid in both cases to save them from the gallows.
The youth were arrested in two cases registered at Shahrjah and Al-Ain cities in Abu Dhabi, and the court had awarded death sentence to them. The first case, registered in Shahrjah in November 2011 was of the murder of Virendra Chauhan (38), originally from Shekhapura village in Azamgarh district of UP. Five youth, namely, Dharmender Kumar of Chhapra in Bihar state, Harvinder Singh of Ajnala in Amritsar, Ranjit Singh of Jinsara of Nawanshahr district, Dalwinder Singh of Mahilpur in Hoshiarpur district, and Sucha Singh of Jassomajra of Patiala district were sentenced to death in this case.
In the second case, 10 Punjabi youth were sentenced to death in the murder of Muhamad Farhaan of Peshawar in Pakistan by an Ai-Ain court in 2016. In this case, Satminder Singh of Thhikriwal in Barana district, Chander Shekhar of Nawanshahr, Chamkor Singh of Malerkotla, Kulwinder Singh of Ludhiana, Balwinder Singh of Chilang village, Dharamvir Singh of Samrala, Harjinder Singh of Mohali, Tarsem Singh of Amritsar, Gurpreet Singh of Patiala, Jagjit Singh of Gurdaspur, and Kuldeep Singh of Tarntaran district were sentenced to death.
Dr. Oberoi said that all were brough back except Dharamvir, who will return as soon as the legal formalities are completed.
In both cases, Dr. Oberoi filed the appeals after their death sentence and visited the families of the deceased a number of times to persuade them to accept the blood money. A hefty amount was paid to the families of the deceased and that money too was organised by Dr. Oberoi through his Sarabat Da Bhala trust.
Till date, Dr. Oberoi has saved 93 Indians, mostly Punjabis, from the death sentence by paying blood money worth Rs. 20 crore and by fighting their cases in the courts free of cost. Also, his trust has brought back the bodies of 63 Indians, mostly Punjabis, from Arab Countries who died there due to unknown reasons. His trust even perfoms the last rites as well as adopts the families of such youth if their economic condition is bad.
The families of these youth were also present in the press conference and they said that Dr. Oberoi had given them a second life by bringing their children back from the jaws of death.
He said that boys from Punjab must focus on their work whenever they go to these countries instead indulging in criminal activities. He said that the families of these boys send them abroad with great expectations of a good future and they must keep that in mind.
https://demokraticfront.com/wp-content/uploads/2018/06/download-30.jpg
170
297
Demokratic Front Bureau
https://demokraticfront.com/wp-content/uploads/2018/05/LogoMakr_7bb8CP.png
Demokratic Front Bureau
2018-06-23 10:47:45
2018-06-23 10:47:46
Dr SP Singh Oberoi has saved 15 Indians, including 14 Punjabis, from the gallows in UAE