Now this is what we call "INTOLERANCE"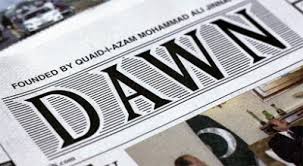 Pakistani newspaper Dawn has been facing disruptions in its circulation in "targeted cities and towns" for the past month ahead of the July general election, its management saidin a statement on Tuesday.
The management of Pakistan's oldest newspaper has also alleged that vans and hawkers distributing its copies have been denied entry to cantonment areas for "several months" and government officials in parts of Sindh, Punjab, and Balochistan are now also stopping them from delivering copies to regular subscribers ahead of the 25 July polls.
"Multiple reports are also coming in of officials posted in many cities and towns in Punjab, arbitrarily summoning newspaper agents, hawkers and salesmen, and warning them not to distribute copies of Dawn, threatening them with consequences if disobeyed," it added.
Calling attempts to forcibly deny newspaper access to the citizens a "categorical violation of the Article 19", Dawn urged caretaker prime minister Nasirul Mulk, Chief of Army Staff General Qamar Bajwa and Chief Justice of Pakistan Mian Saqib Nisar to take strong notice "without any further delay of this hostile situation".
'Cannot withstand an engineered election'
In Pakistan, Article 19 of the Constitution grants its citizens the right to freedom of speech and expression, and the freedom of the press. This freedom is subject to any "reasonable restrictions imposed by law in the interest of the glory of Islam or the integrity, security or defence of Pakistan or any part thereof friendly relations with foreign States, public order, decency or morality, or in relation to contempt of court, (commission of) or incitement to an offence."
He added that if this campaign continued, the holding "free, fair and just elections" will become next to impossible. "Let such forces be warned that the social and political fibre of Pakistani society and the polarisation within the Federation cannot withstand an engineered election," he said.
The background
In May, several reports stated that copies of Dawn "vanished" from Balochistan. It was reported then that the distributors were told to stop its circulation because the newspaper was 'pro-Nawaz Sharif'.
On 12 May,
dawn published an interview with the former prime minister which purportedly did not go down well with the Pakistan's military establishment; Nawaz questioned the military's commitment to curbing terrorism. "Militant organisations are active. Call them non-State actors, should we allow them to cross the border and kill 150 people in Mumbai (2008 attack)? Explain it to me. Why can't we complete the trial?" Sharif asked in the interview.
The Pakistan Army enjoys considerable influence over policy decisions in Pakistan and has virtually ruled the country for much of its life since it gained independence 70 years ago.
Following the Dawn interview, the Press Council of Pakistan notified the newspaper's editor that the publication has breached the ethical code. Media watchdog Reporters Without Borders lashed out at the authorities over the reports of blocking of Dawn's circulation. "It is clear that the military high command does not want to allow a democratic debate in the months preceding a general election," it said in a statement.
Other media organisations cry censorship
Apart from Dawn, journalists and other media organisations have claimed censorship and acts threatening their freedom ahead of the July election.
On 6 June, senior journalist Gul Bukhari — known for her criticism of the Pakistan Army — was abducted for several hours while on her way to record a TV programme late at night. Another journalist Asad Kharal was physically assaulted in Lahore the same day.
In April, Geo News was blocked in many parts of Pakistan. Reports claimed that cable operators were being forced to suspend the channel on orders of the Pakistan military.
Media watchdogs such as Amnesty and International Press Institute (IPI) expressed their concerns over these incidents.
"These actions deny the public's fundamental right to receive news and information and to participate in informed debate about matters of public interest, in particular the military's role in civilian affairs", IPI executive director Barbara Trionfi said in a letter sent to Mulk, Nisar, Chief Election Commissioner Sardar Muhammad Raza, Senate chairman Muhammad Sadiq Sanjrani, and the Leader of Opposition Sherry Rehman.
Amnesty International South Asia deputy director Dinushika Dissanayake said: "Key freedoms are under relentless attack in Pakistan, with the authorities cracking down on dissent, whether it takes place on the streets, on television news channels, in newspaper columns, or on social media."
https://demokraticfront.com/wp-content/uploads/2018/06/download-27.jpg
166
303
Demokratic Front Bureau
https://demokraticfront.com/wp-content/uploads/2018/05/LogoMakr_7bb8CP.png
Demokratic Front Bureau
2018-06-21 15:40:25
2018-06-21 15:40:25
Now this is what we call "INTOLERANCE"