Centre Geared up to Cope up with Challenges in valley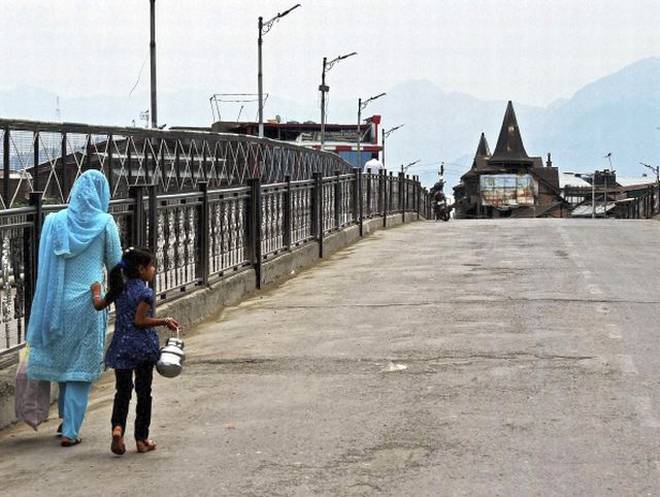 A day after the exit of the Mehbooba Mufti government, the Centre swiftly moved to oversee administrative work in J&K by appointing experienced bureaucrats and advisers while gearing up for what it feels will be an enhanced challenge on the security front.A key appointment was that of B V R Subrahmanyam, who had earlier served as private secretary to former PM Manmohan Singh, as chief secretary in place of B B Vyas. He will assist governor N N Vohra, who sources said would not be replaced any time soon.
While Subrahmanyam, a 1987 batch IAS officer from Chhattisgarh, will be chief secretary, Vyas was appointed as adviser to Vohra along with IPS officer Vijay Kumar, who gained recognition for the operation he led against sandalwood smuggler Veerappan.
The immediate focus will be on safe conduct of the Amarnath Yatra as central sources said there were serious threat perceptions while it was anticipated that extremists unhappy with the unceremonious fall of the PDP-led government could step up hostile acts. The situation along the LoC and the international border has been tense and could be a fresh challenge through heightened infiltration attempts.
"The next one-and-a-half months will be focused on securing Amarnath Yatra and breaking the alliance of terrorists, Hurriyat and some elements in local police, who often leak information about CASO (cordon and search operations), raids and crackdown on overground workers of terror groups," said an official, requesting anonymity.
Speaking on the imposition of governor's rule, Army chief Gen Bipin Rawat said, "We don't think there will be any impact (on anti-terror operations). We don't have any kind of political interference."
The suggestion that security forces will have a freer hand was echoed by state DGP S P Vaid but he later clarified that the remark was being misinterpreted to mean there had been constraints. The comment, however, was seen to reflect relief over the police force not being subject to pressure of PDP leaders acting on behalf of hardline Jamaat interests. The stepped up security operations will also be accompanied by more intense efforts to quicken development works which it was felt had not been progressing fast enough. The direct rule through the governor is seen to have benefits as decision making would be quicker even though feedback through political channels is restricted.
Subrahmanyam worked with Manmohan Singh between 2004 and 2008 before going to the World Bank and later in Narendra Modi's PMO from May 2014 till March 2015. Officials said he has immense internal security experience and has handled J&K while working in the PMO. He was posted as additional chief secretary in Chhattisgarh.
About Kumar, the anti-Naxal operations expert presently working as senior security advisor in the home ministry, officials said he too had J&K experience as he had served there as inspector general in the Border Security Force. Asked about appointment of a Chhattisgarh cadre IAS officer in J&K, a source said, "It's not something new. All India Services officers can work anywhere."
The Centre's special representative in the state, Dineshwar Sharma, will continue engaging with different groups for peace talks.
https://demokraticfront.com/wp-content/uploads/2018/06/bridge.jpg
497
660
Demokratic Front Bureau
https://demokraticfront.com/wp-content/uploads/2018/05/LogoMakr_7bb8CP.png
Demokratic Front Bureau
2018-06-21 04:35:21
2018-06-21 04:35:21
Centre Geared up to Cope up with Challenges in valley