Rakesh Math Summoned in Gauri Lankesh's Murder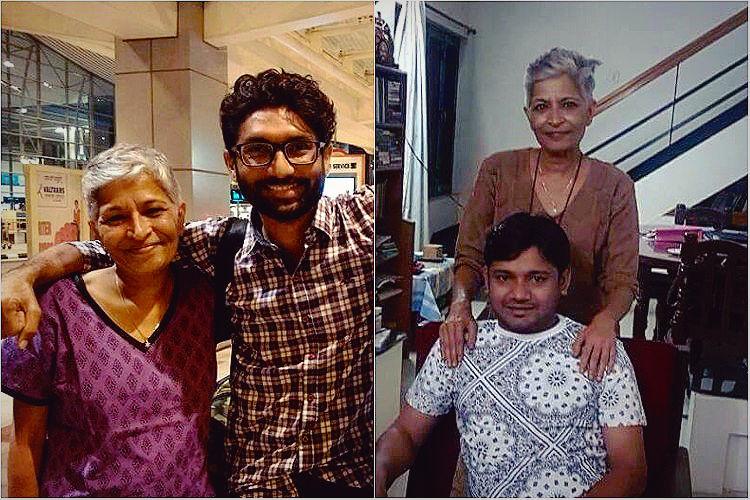 The SIT probing the killing of journalist-activist Gauri Lankesh has summoned Rakesh Math, the Vijayapura district president of fringe right-wing outfit Sri Ram Sene, for questioning, a senior police official said on Saturday.
The SIT decided to question Math since the suspected shooter of Lankesh, Parshuram Waghmore, was an active member of the Hindutva organisation linked to moral policing in parts of Karnataka.
The official, from the SIT, said they wanted to find out whether Math was involved in Lankesh's assassination and whether he "brainwashed" Waghmore to participate in the plot.
Math and Waghmore were allegedly involved in hoisting a Pakistani flag outside the tahsildar office in their hometown Sindagi of Vijayapura district in Karnataka in January 2012.
The SIT believes Math has a strong support base in coastal regions, including Mangaluru, and parts of north Karnataka.
"We have summoned Rakesh Math. He has not come yet," the official said.
Sri Ram Sene founder and chief Pramod Muthalik has distanced himself and his organisation from Waghmore and the killing of Lankesh and other rationalists.
Lankesh was shot dead at the entrance of her Bengaluru residence on September 5 last year.
"There is no connection between Sri Ram Sene and Waghmore. He is neither our member nor our worker. This I say very clearly," said Muthalik.
The Sene chief said when the Pakistani flag hoisting issue had come to light, it was said that Waghmore was a member of Sri Ram Sene. However, he said he has proved that Waghmore was not a member of Sri Ram Sene but of RSS.
"I had shared his pictures sporting RSS uniform. I had said at that time that he is an RSS worker and not of Sri Ram Sene," Muthalik said.
Conceding that Math is the district head of Sene, Muthalik said he has been summoned for inquiry because all of them are from Sindagi town and were involved in the Pakistani flag hoisting incident.
Since both Waghmore and Math were involved in the Pakistani flag case and were from the same town, the police might have summoned the latter for interrogation.
"Rakesh Math is our district president. However, the organisation has its own constitution according to which it functions. If somebody does something privately in his personal capacity, it cannot be held responsible," he said.
Parashuram Waghmore's father Ashok Waghmore, who had come from Sindagi to Bengaluru to see his son, said he was innocent but could not recall where he (Parashuram) was on September 5, the day Lankesh was shot dead.
"I think he was at home," Ashok Waghmore told a Kannada news channel.
Rakesh said he came to Bengaluru following a notice to appear for the inquiry.
"I received a notice stating that my presence was required for the investigation (of Lankesh murder case)," Math told the channel.
He also said he has been Parashuram Waghmore's friend and his arrest was quite shocking.
He said he came to know about his (Parashuram Waghmore's) arrest after the police picked him up.
Rakesh was confident that his friend would come out clean.
He denied his involvement in the killing and said he has only been doing organisational work.
https://demokraticfront.com/wp-content/uploads/2018/06/gauri_jignesh_kanhaiyya.jpg
500
750
Demokratic Front Bureau
https://demokraticfront.com/wp-content/uploads/2018/05/LogoMakr_7bb8CP.png
Demokratic Front Bureau
2018-06-16 12:03:19
2018-06-16 12:03:19
Rakesh Math Summoned in Gauri Lankesh's Murder