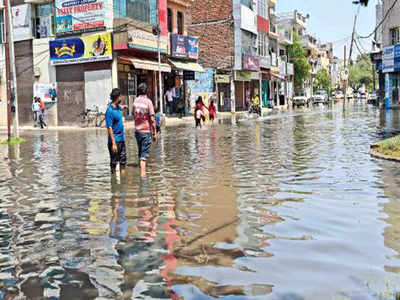 ZIRAKPUR:
Hundreds of residents of MS Enclave, Dhakoli, have been suffering hell for the past 72 hours due to stinking surroundings caused by overflow of sewerage water on roads from the treatment plant of Sector 20, Panchkula. For the past more than a decade, the residents have been telling the authorities that during rainy season the sewerage overflow makes life difficult. But all their words have fallen on deaf ears.
On Sunday at 10am, the sewerage water flowed in the area and there was flood-like situation on roads. The dirty water entered houses and for the past three days, people are living with it. During a visit to the area, residents said they suffer as the authorities were not regular in cleaning the sewer.
Zirakpur municipal council employees, who are entrusted with the job of cleaning the sewer, said there were a large number of plastic bags, bottles and thermocol blocking the sewer. They said they have used the sucking machine also, but as the quantity of these things was huge they have to clear it manually.
Lalit Goyal, a restaurateur, complained that since Sunday his eatery has been shut due to waterlogging. He said he had bought the shop in 1998 and during every rainy season the sewerage water overflows and a temporary cleaning is done by the authorities. "The problem might continue till Wednesday, as the technique the authorities are using is traditional," he added.
Another resident, Rahul Kumar, said since morning the MC had collected one trolley of garbage from the overflowing sewerage and the work was still on. "Garbage has chocked the sewers," he added.
Area councillor Devinder Singh Brar said this was the story every rainy season. "In 2017, a letter was sent to the Panchkula deputy commissioner and he was asked to get the manholes repaired, but to date nothing has been done. In the complaint letter, the residents had stated that the diameter of the manholes in Dhakoli was smaller than in Panchkula," he added.
Manbir Gill, executive officer of the MC, said JCB machines are on the job to clean the sewerage. About the main cause, he said the Haryana government installed the sewerage treatment plant (STP) in their area almost a decade ago and under their project they have to lay pipelines in Punjab too as it's located on the border. But to date, they have not completed the project due to which the problem occurs every year, he said, adding that they had raised the matter with the Haryana government, but to no avail.
https://demokraticfront.com/wp-content/uploads/2018/06/64564964.jpg
300
400
Demokratic Front Bureau
https://demokraticfront.com/wp-content/uploads/2018/05/LogoMakr_7bb8CP.png
Demokratic Front Bureau
2018-06-13 10:21:59
2018-06-13 10:21:59
Panchkula Sewage Flooding Dhakoli