Karni Sena has Threatened to Chop off Kiran Maheshwari's Nose and Ears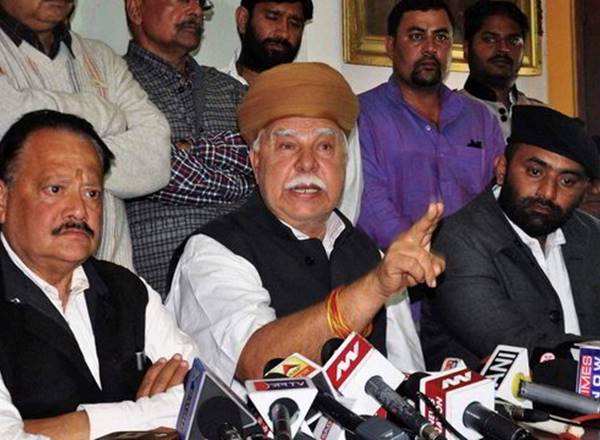 The Shree Rajput Karni Sena has threatened to chop off Rajasthan Education Minister Kiran Maheshwari's nose and ears for allegedly equating Rajputs with "rats". Responding to a question over the fact that the Sarv Rajput Samaj Sangharsh Samiti had started a campaign against the BJP ahead of the upcoming assembly polls, Maheshwari had on Monday said, "Aise bhi log hain jo barsati choohe (rats) hain, jo chunav aate hi bilon se nikal aatein hain (There are people like rainy rats who come out of their holes during election time)."
The Rajput organisation has demanded an immediate apology in the case, even as the Minister said she was not referring to the community.
On Tuesday, the Karni Sena warned the minister to apologise or face dire consequences, adding that she should have remembered the "Padmavat Controversy" before making such remark. During the protests against release of 'Padmaavat', Mahipal Singh Makrana of Rajput Karni Sena had threatened Padukone. "Rajputs never raise a hand on women but if need be, we will do to Deepika what Lakshman did to Shurpanakha," he had said.
"BJP has come strong in Rajasthan with the help of Rajput community. Maheshwari had won the last assembly elections with the help of these 'rats' and hence we will teach her a lesson in the coming elections. There are 40,000 Rajput voters in her constituency (Rajsamand). She should apologise immediately. Also, the state government should issue a statement," said Karni Sena's state chief Mahipal Makrana in a video which went viral soon.
He added that although they hold women in high regard, they will not tolerate women insulting the community.
However, Maheshwari denied using any offensive language against the Rajputs and sought to clarify that her statements against the Congress were twisted to incite the community.
Congress Condemns 'Rat' Statement by Rajasthan Education Minister
Congress' Rajasthan chief Sachin Pilot also condemned the incident and said that Maheshwari should apologise to the entire Rajput community. "The BJP party has been hurting the sentiments of common man, communities and political parties with their derogatory comments which is highly objectionable. The Education Minister should apologise to the Rajput community," he said.
Slamming Maheshwari, state Congress Vice President Archana Sharma said,"When the things aggravated and her comment drew flak from all parts of the state, Maheshwari changed her stand to come out clean and said that she was targetting Congress with her rat remark. This shows poor mentality of BJP which can come down to any level to prove themselves clean."
https://demokraticfront.com/wp-content/uploads/2018/06/download-15.jpg
176
286
Demokratic Front Bureau
https://demokraticfront.com/wp-content/uploads/2018/05/LogoMakr_7bb8CP.png
Demokratic Front Bureau
2018-06-13 17:19:09
2018-06-13 17:19:09
Karni Sena has Threatened to Chop off Kiran Maheshwari's Nose and Ears