Cong Attacks Jaitley Over jibe at Raga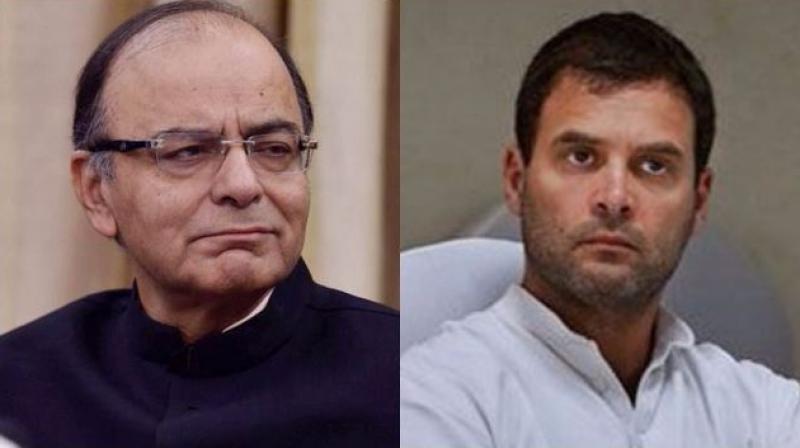 The Congress today hit back at Union Minister Arun Jaitley over his jibe at Rahul Gandhi, alleging that arrogance of the BJP has touched its zenith as it turned "blind" to farm distress.
Congress communications in-charge Randeep Surjewala accused the Modi government of writing off loans worth Rs 2.41 lakh crore of a handful of crony friends citing a reply given in Parliament by the finance ministry on April 3.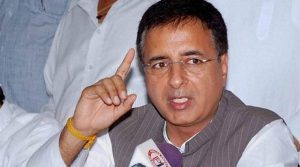 "Loot and scoot had become a norm with scamsters fleeing the country after decamping with public money, he claimed in statement.
"How much does Arun Jaitley know? Has arrogance of power reached such a zenith where the BJP is blind to farmers' distress'? How are empty-worded blogs an answer to betrayal of farmers by the Modi government?" he asked.
Attacking Gandhi or his speech in Madhya Pradesh today, Jaitley wondered 'how much does he know? When will he know?'
The banking fraud started in 2011 when the UPA II was in power and it was only detected during the NDA period, he said in a Facebook post in response to Gandhi's speech in Mandsaur.
In his statement, Surjewala reminded the Union Minister of former Prime minister Jawaharlal Nehru's words that "facts are facts, and will not disappear on account of your likes".
He said contrary to Jaitley's "lies", the government was actually the 'NPA sarkar' and alleged that the gross non-performing assets have gone up from over Rs 2.51 lakh crore in March 2014 to more than Rs 8.31 lakh crore in December 2017, a whopping rise of 230 per cent as per an April 6 reply in Parliament.
"Fleece the banks and fly away to foreign lands are the facility for fraudsters under the Modi Government's watch. Perhaps, Arun Jaitley forgets the recent bank loot scams worth over Rs 61,036 crore," he alleged.
The Congress leader said over 130 farmers organisations were protesting across India through an unprecedented rural bandh and rural distress, agricultural indebtedness,farmers suicides and distress sale of crops much below MSP was the new order.
"Arun Jaitley, Union Minister without portfolio, with zero knowledge of agriculture is giving gyan' (wisdom) to the nation again today, with his usual travesty of facts and trivialization of farmers' issues," he alleged.
Surjewala also alleged that Make in India' has become an empty slogan of the government and the BJP and its 'minister without portfolio' forgot that industrial growth has declined from 7.4 per cent in 2016 to 4.45 per cent in 2018.
He alleged that between 2014 and 2018, India's revenue from exports was zero.
"Arun Jaitley waxes eloquent about jobs. The BJP promised two crore jobs per year, but the stark reality that it has only betrayed our youth. The Modi government created only 4.16 lakh jobs in 2016-17 and 77 per cent of Indian workers will have vulnerable employment by 2019 as per ILO.
"Let us not forget that there is 'lowest-ever' agriculture growth under the Modi government – 1.9 per cent (2014-18) as compared to 4.2 per cent under Congress (2004-14)
"The prime minister's promise of MSP equal to cost plus 50 per cent profit for farmers is a white lie. Rural wage growth has dipped from 38 per cent in 2014 to zero per cent in 2018 (RBI report). Tragically, 35 farmers are driven to suicide every 24 hours (NCRB data)," he said.
He said sugarcane arrears surge to over Rs 20,000 crore as an "insensitive" government "floundered".
The PM Fasal Bima Yojana benefited insurance companies, not farmers and companies earned a profit of Rs 14,828 crore but farmers got paid only Rs 5,650 crore, he claimed.
The Congress leader alleged that there was 'double jeopardy' for farmers as agriculture exports declined by USD 9.4 billion and agriculture imports rose by USD 10.06 billion.
https://demokraticfront.com/wp-content/uploads/2018/06/download-15-1.jpg
194
259
Demokratic Front Bureau
https://demokraticfront.com/wp-content/uploads/2018/05/LogoMakr_7bb8CP.png
Demokratic Front Bureau
2018-06-13 18:12:58
2018-06-13 18:12:58
Cong Attacks Jaitley Over jibe at Raga