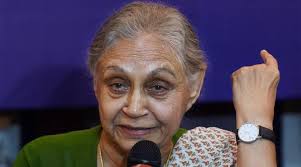 As Chief Minister Arvind Kejriwal's sit-in protest inside the Raj Niwas entered the third day today, Congress leader Sheila Dikshit said he was not at all conscious of his constitutional duties and people are bearing the brunt of his "confrontational politics".
Dikshit, a three-time Delhi chief minister, said it was "completely unacceptable" that the head of the government was sitting on a "dharna" at the Lt Governor's house when the city was reeling under severe water crisis and other problems.
The veteran Congress leader said people of Delhi had given Kejriwal a "huge" majority and he does not have any option of staying away from his responsibilities and inflicting pain and miseries on the common man.
"What message you are giving? It (dharna) makes no sense. People of Delhi are very very disappointed because they brought him with a huge majority. There is not a single Congress MLA in the Delhi Assembly. The BJP had won only 3 seats. You had a sweep and this is how you are misutilising it," Dikshit told PTI in an interview.
Kejriwal, Deputy Chief Minister Manish Sisodia and two other Delhi ministers have been on sit-in protest at Lt Governor Anil Baijal's office demanding directions to the IAS officers to end their "strike" and cooperate with the AAP government.
Referring to Delhi's administrative structure, Dikshit said there were limitations of powers for the Delhi chief minister and the constraints coming in the way of governance can be overcome by being logical and not by adopting a confrontational approach.
"This is a crisis. The chief minister of Delhi sitting at the Lt Governor's house on a kind of a dharna is just not acceptable. Delhi is at a standstill and because of it (protest by CM) citizens are suffering," said Dikshit, whose 15-year rule had come to an end in 2013 following AAP's foray into politics.
On Kejriwal's run-ins with the Centre as well as with the bureaucrats, she said, "You are inviting everything yourself and then trying to make a martyr of yourself."
The bureaucrats in Delhi government have been on a symbolic strike, boycotting meetings with AAP ministers since February following an alleged assault on Chief Secretary Anshu Prakash at Kejriwal's official residence. The officers have demanded an apology from Kejriwal for the incident.
Recalling her tenure as chief minister of Delhi when Atal Bihari Vajpayee was the prime minister, Dikshit said she did not have any problem with the BJP dispensation at the Centre and cited the example of Delhi Metro project and introduction of CNG in public transport as success stories of both the governments working together.
"When you are in administration you do not have indulge in conflicts. You should try and bring everyone together. Now there is conflict and nothing else. Have you come to govern the city only to have conflicts or have you come here to rule the city. You have been chosen as a somebody who will rule the city and you are going away from that completely," she said.
Since coming to power after scripting a sensational election victory in 2015 winning 67 out of 70 assembly seats, Kejriwal has been having a rocky relationship with the Centre on a variety of issues with the chief minister often accusing Prime Minister Narendra Modi of trying to stall governance in Delhi for political gains.
Dikshit said people of Delhi are suffering because of "confrontational politics" by Kejriwal.
"He (Kejriwal) is not conscious of what his constitutional duty is. He is just not conscious of it. He is trying find ways that I cannot do it because I do not have the powers. You have all the powers; yes the power is in cooperation with the government of India," said Dikshit.
She said the LG has a role to play in the governance of the city and it was for Kejriwal to decide whether he wants to cooperate with Baijal and take the city forward or not do any work.
"The Congress was in power for 15 years. We did not have a single conflict with the central government. There is no reason for it (protest) to happen unless they are trying to divert attention from the work that they have been unable to do, Dikshit said.
Asked whether Kejriwal ever tried to reach out to her, Dikshit said she never expected it and he never did it.
On whether there was any possibility of Congress having any electoral understanding in 2019 Lok Sabha polls, Dikshit said there was no such initiative.
https://demokraticfront.com/wp-content/uploads/2018/06/12live-kejri-e1528783804258.jpg
411
618
Demokratic Front Bureau
https://demokraticfront.com/wp-content/uploads/2018/05/LogoMakr_7bb8CP.png
Demokratic Front Bureau
2018-06-13 17:10:51
2018-06-13 17:10:51
Arvind Kejriwal not Conscious of His Duties : Sheila Dikshit