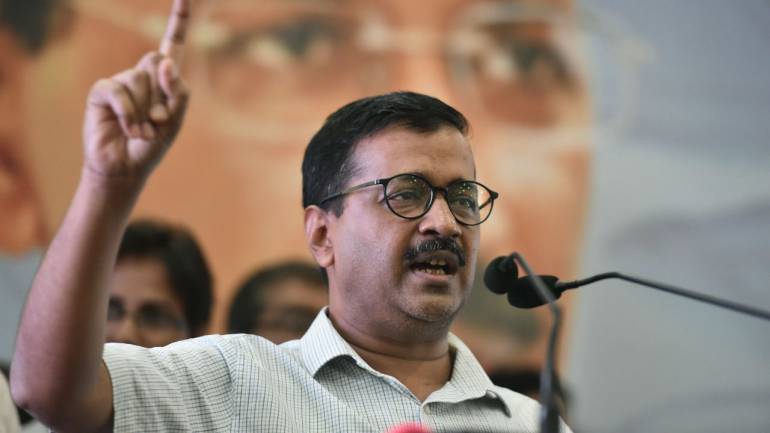 Arvind Kejriwal is all set for negotiations if Delhi is granted full statehood status.
Delhi Chief Minister Arvind Kejriwal Monday said that if the BJP-led Centre grants full statehood to Delhi before the 2019 Lok Sabha polls, the AAP will campaign for the party. Addressing the Assembly on the motion of full statehood, Kejriwal said it was time for the people of Delhi to end the "unaccountable" rule of the L-G, which he claimed was "worse" than the British Raj in terms of the extent of exploitation.
"Grant us full statehood before the Lok Sabha polls, each and every vote in Delhi will be polled in your (BJP's) favour; we will campaign for you. If not, you will be thrown out by the people," he said.
He repeatedly referred to the L-G as "maharaj (emperor)" and "viceroy", claiming that the current arrangement was akin to the one under British rule. "After 1947, the entire country got freedom, but people of Delhi continue to be second-class citizens. Delhiites are half-citizens," he said.
The Assembly, which debated the motion during a four-day special session, later passed a resolution demanding full statehood. According to Assembly secretary, C Velmurugan, similar resolutions have been passed at least four times before.
"The first such resolution was passed during the term of the first Assembly under then CM Chaudhary Brahm Prakash. Later, similar resolutions were passed even under BJP governments," he said.
Making his point, Kejriwal invoked Delhi's history under the Mughal empire and the British rule. "Between 2013 and 2016 came maharaja Najeeb Jung. Now we have maharaja Anil Baijal. Today, the most important question confronting Delhi is whether the L-G has the last word or the people. The time has come for people of Delhi to fight for their independence," he said.
The AAP had set the tone on the first day of the session by linking all its unfinished business in office, starting from the Jan Lokpal Bill to the mohalla clinic project, to the pending demand for full statehood.
Kejriwal took it forward by invoking the list of pending proposals and incomplete projects. He also projected a scenario under which "every citizen of Delhi will have a house" and "guaranteed employment" if the city is granted full statehood.
He said 85 per cent of Delhi government jobs should be reserved for the people of Delhi. "We would have built 100 colleges in Delhi by now if Delhi was a full state," he claimed.
The AAP has planned a series of events over the next one month to press for statehood. A convention has also been scheduled for July 1 over the demand.
Calling the AAP government's bid for full statehood "a political gimmick", Delhi BJP chief Manoj Tiwari claimed that the AAP and the Congress were hand-in-glove to mislead people of Delhi. "The AAP is trying to hide its bad governance and divert public attention to other issues," he said.
On the other hand, Delhi Congress chief spokesperson, Sharmistha Mukherjee, said, "The AAP and the BJP have a secret game plan. We also demanded statehood but it never became an excuse for not delivering."
https://demokraticfront.com/wp-content/uploads/2018/06/43E0687000000578-0-image-m-2_1504554495921.jpg
714
634
Demokratic Front Bureau
https://demokraticfront.com/wp-content/uploads/2018/05/LogoMakr_7bb8CP.png
Demokratic Front Bureau
2018-06-12 04:51:46
2018-06-12 04:51:46
Delhi Hamaari then AAP Tumhari