Out on Bail Chhagan Refuses to Bail BJP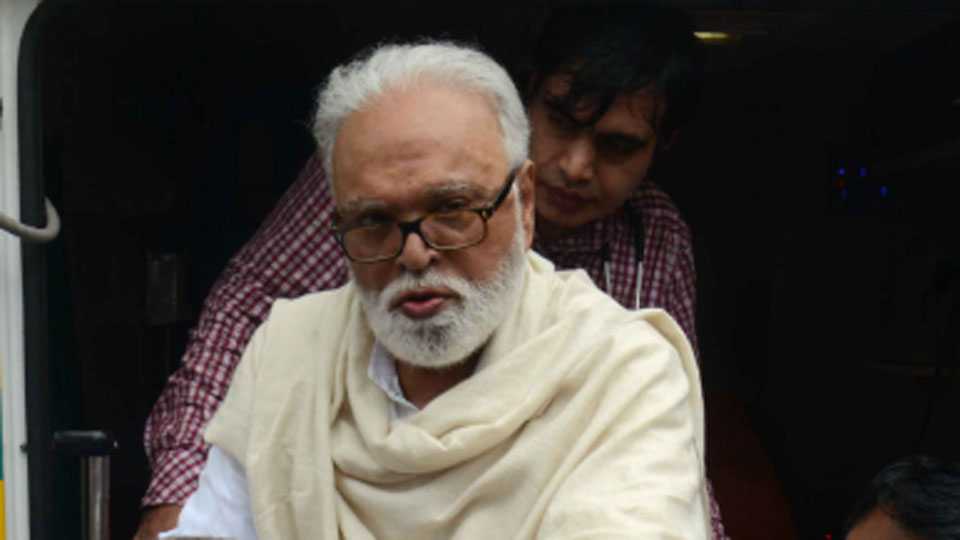 In his first public rally after spending 26 months in jail, senior NCP leader Chhagan Bhujbal took on the BJP-led government for trying to corner him with corruption allegations and for fooling people with false promises.
"I had belief in the judiciary. So I am out on bail. I will always have belief in the judiciary and would come out free from allegations levelled against me," Bhujbal said during a 40-minute speech on the foundation day of the NCP, which coincided with a rally to conclude its 'Halla bol agitation' in western Maharashtra.
The NCP leader expressed gratitude to everyone who stood by him and his family during the tough times. "Many came to meet me from all political parties, including the BJP, and I express my gratitude to them," Bhujbal said, naming Shiv Sena chief Uddhav Thackeray, MNS chief Raj Thackeray, BJP ministers Dilip Kamble, Girish Mahajan and Girish Bapat, and Congress leader Radhakrishna Vikhe-Patil.
On speculation about his political career, he said there was no need for him to think of any other party, as the NCP had stood by him and his family during hard times. "NCP MP Supriya Sule frequently met me. The NCP chief took care of my family by constantly remaining in touch with them," he said.
Bhujbal said his properties were raided by authorities multiple times but they failed to get anything against him. "My family had to suffer as the women and children were scared of the raids. They later started spending time in others' houses to keep the children away from getting scared," he said.
Incidentally, the Maharashtra Sadan, for the construction of which he has been accused of corruption, is being used by the BJP for holding party meetings, Bhujbal pointed out.
Bhujbal took on the BJP government by making sarcastic comments about its promises. "I was surprised to find after being released from jail after 26 months that Rs 15 lakh each was deposited in my and my family members' bank accounts. I found there was no unemployed youth, and gas and petroleum products had become very cheap. There are no more rapes taking place in the country, and terrorism has been weeded out after demonetisation. I am very thankful to the state and union government for the changed situation," Bhujbal said.
There have been programmes like 'Start up India and Make in India", the NCP leader said, adding, "I fear that now there would be a 'Ruin India' campaign."
Commenting on the government's four years in power, he asked it to name four cities that have become smarter, four districts where every house has toilets and are in use, four districts where new hospitals have come up, or power generation plants have been set up.
"The government should inform me the four sectors free of corruption or four km stretch of Ganga river that has been cleaned completely," Bhujbal said sarcastically adding that he was amazed to know that there are no farmers suicide taking place in villages anymore. "The change is that farmers are committing suicide in the Mantralaya building and not in villages," he said, adding that no farmer in the country was happy or was experiencing the 'acche din' promised by the government.
Bhujbal, citing an article by retired Justice PB Sawant urging for a fight against the undecleared emergency in the country, said, "I am thankful that the former justice has been vocal about the existing situation, which is very serious."
The BJP had assured reservation to Marathas and other communities, but there has been no decision on reservation for various communities and instead efforts were being made to create hatred among communities, Bhujbal said.
"I would participate in the protests on the streets for the interest of the poor and needy. There is no reason for me to leave the party as I know it is the only one to fight for the cause of the common public," he said.
https://demokraticfront.com/wp-content/uploads/2018/06/1chhaganbhujbal_16.jpg
540
960
Demokratic Front Bureau
https://demokraticfront.com/wp-content/uploads/2018/05/LogoMakr_7bb8CP.png
Demokratic Front Bureau
2018-06-11 03:23:10
2018-06-11 03:25:05
Out on Bail Chhagan Refuses to Bail BJP