Akhilesh With Bua to Keep BJP away from Power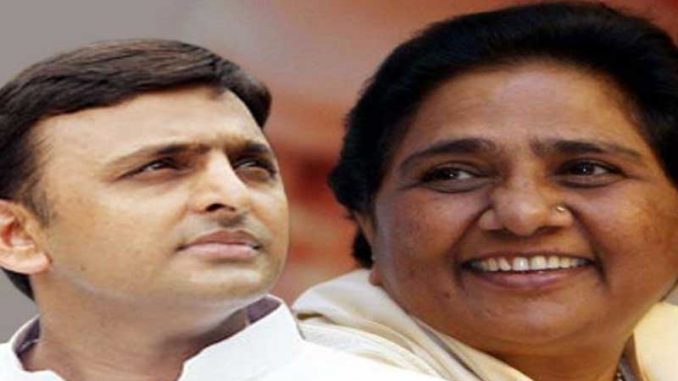 Lucknow:
Former Uttar Pradesh chief minister and Samajwadi Party president Akhilesh Yadav has said that his party is willing to play second fiddle to BSP in order to ensure BJP's defeat in the 2019 Lok Sabha elections.
Akhilesh, who was in Mainpuri on Sunday to unveil the statue of a former pradhan in Jaurai village of the district, said his party was willing to make a compromise and contest fewer seats if it helped to ensure BJP's rout in the general elections next year.
"We have an alliance with the BSP and it will continue. If we have to sacrifice 2-4 seats to ensure BJP's defeat, we will not back out," he said.
Claiming that the prepoll Grand alliance which won the recent bypolls in UP will continue in future too, Akhilesh said, "Our motive is to win elections against BJP and for this we are ready to ally with BSP."
Akhilesh announced that toll tax on Agra-Lucknow expressway will be "removed" for farmers if SP wins in the state.
In a scathing attack on UP chief minister Yogi Adityanath, the SP chief said the BJP lost every seat where Yogi campaigned during the recent bypolls.
"BJP lost the last four bypolls in UP to a united opposition. They lost the crucial Kairana LS and Noorpur assembly bypolls recently."
Earlier, they had lost bypolls in Gorakhpur, which was Yogi's seat, and Phulpur, which was held by his deputy, Keshav Prasad Maurya.
In BSP's national executive held last month, Mayawati had said she would ally with other parties only if her party gets "a respectable number of seats". As her remark caused confusion among her party's cadres as well as those of SP at the ground level, BJP workers in west UP, as a last-ditch effort to win the bypolls, were seen circulating Mayawati's message among Dalits and trying to convince them to vote for BJP.
Earlier, there had been signs of souring ties when SP failed to ensure victory for BSP's lone candidate in the Rajya Sabha elections after the Gorakhpur and Phulpur byelections.
While BJP had tried to "warn" Mayawati against trusting Akhilesh, she had lashed out at the ruling party, saying it would not make any difference to the "closeness" between the two parties. "As secular forces are uniting, communal forces like BJP and RSS are becoming increasingly worried," Mayawati had said.
https://demokraticfront.com/wp-content/uploads/2018/06/maya-akhilesh-678x381.jpg
381
678
Demokratic Front Bureau
https://demokraticfront.com/wp-content/uploads/2018/05/LogoMakr_7bb8CP.png
Demokratic Front Bureau
2018-06-11 02:26:02
2018-06-11 02:26:02
Akhilesh With Bua to Keep BJP away from Power