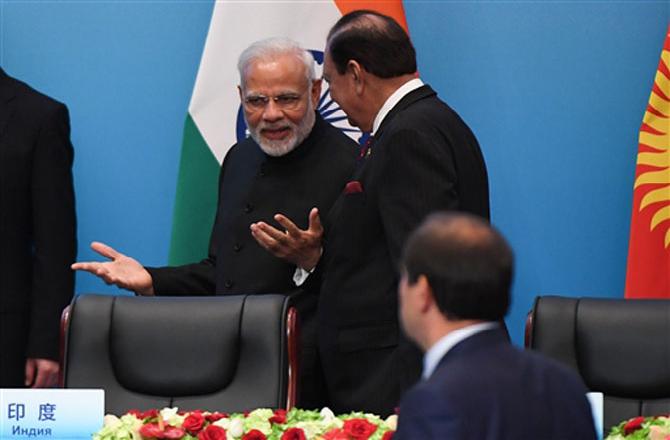 New Delhi: Prime Minister Narendra Modi on Sunday shook hands with Pakistan's president Mamnoon Hussain at China's Qingdao on Sunday after leaders of a China and Russia led Eurasian bloc signed a series of agreements aimed at boosting cooperation within the grouping.
Modi and Hussain, who were seen standing on opposite ends during a family photograph of the leaders of the Shanghai Cooperation Organisation (SCO) grouping, were also seen exchanging words in a cordial manner. The exchange took place as Modi walked towards Chinese president and SCO host Xi Jinping. After shaking hands with Xi, Modi also extended his hand to Hussain who was standing beside Xi. The two were then seen walking off the stage together.
The picture presented by the two contrasted markedly with the current state of ties between India and Pakistan—with almost daily violations of a 2003 ceasefire pact between the two neighbours that was regarded as a major confidence building measure when it was put in place more than a decade ago. According to news reports on Sunday, Indian security forces in Kashmir killed six terrorists, foiling a bid to infiltrate into India.
Pakistan's support to terrorism in Kashmir and other parts of India is seen as the major stumbling block in normalising ties between the two countries, who have fought four wars since 1947. Pakistan denies India's charges that supports any anti-India terrorist group, citing itself too as a victim of terrorism. Official talks between the two countries have been suspended since 2013 and many attempts to restart the dialogue since Modi took office in May 2014 have come to naught.
In recent days, the two countries have been looking at putting in place some humanitarian steps that could possibly lead to an eventual thaw in ties perhaps after the 25 July polls in Pakistan, according to people familiar with the developments.
https://demokraticfront.com/wp-content/uploads/2018/06/2018-06-10T064233Z_1705802369_RC1E1D9D1250_RTRMADP_3_CHINA-SCO-kyHF-621x414@LiveMint.jpg
414
621
Demokratic Front Bureau
https://demokraticfront.com/wp-content/uploads/2018/05/LogoMakr_7bb8CP.png
Demokratic Front Bureau
2018-06-10 13:35:51
2018-06-10 13:42:19
Modi Mamnoon Shook Hands