Election Commission to Probe Voters List in Madhya Pradesh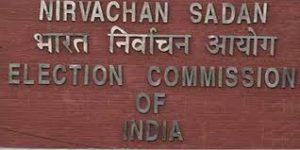 With six months to go for the assembly elections, the Madhya Pradesh unit of the Congress party has alleged that there were nearly 12%, or 6 million, fake voters in the state's electoral rolls.
In a memorandum submitted to the Election Commission of India (EC), the Congress claimed that it had proof that "duplicate, repeat, multiple, illegal, invalid and false" entries were made in the state's electoral list.
Hours after the memorandum was submitted, the EC set up two teams comprising central officials for Bhopal and Narmadapuram, and asked them to submit the final reports by 7 June. The teams were asked to verify every concern, assess the status of field verification and fix accountability.
Senior Congress party leaders, including state unit chief Kamal Nath, campaign committee chief Jyotiraditya Scindia, coordination committee chief Digvijay Singh and in-charge Deepak Babaria met senior EC officials on Sunday morning and demanded that the rolls should be "scrutinized meticulously" to ensure that irregularities and duplications are removed.
"There are several bogus voters. This cannot be a mistake. This is intentionally creating a fraudulent list. Our estimate is of 60 lakh (6 million) voters and this does not include those whose names have not been included or whose names are removed. This is only for duplicate, triplicate or names that have appeared five times in one or more constituencies," Nath said in a joint press conference with other senior leaders in New Delhi.
Congress leaders said the complaint is based on studies by teams of its state units and "independent researchers".
"We analysed 101 assembly constituencies where 24,65,000 fake voters were found. In the second category where two assembly constituencies had the same name and photos, we analysed 91 constituencies where 27 lakh fake voters were found. This is only 40% of total constituencies in Madhya Pradesh. If you extrapolate it, there are 60 lakh fake voters in the state," Scindia told reporters.
In a presentation submitted to the poll panel, the party showed copies of voter IDs with the same photographs, but different names across constituencies. It also claimed that the increase in total electorate is much more than the corresponding increase in population of the state.
https://demokraticfront.com/wp-content/uploads/2018/05/Logo-of-Election-Commission.jpg
1600
1598
Demokratic Front Bureau
https://demokraticfront.com/wp-content/uploads/2018/05/LogoMakr_7bb8CP.png
Demokratic Front Bureau
2018-06-04 08:59:25
2018-06-04 08:59:25
Election Commission to Probe Voters List in Madhya Pradesh