Nearly a year and a half after former Tamil Nadu Chief Minister J Jayalalithaa passed away at the Apollo Hospitals in Chennai, a 98-page handwritten document and audio file was released by the one man Arumughasamy commission that is probing her hospitalisation and subsequent death.
A white notepad in green ink detailing a diet plan from 4: 55 in the morning to 7: 15 at night is perhaps the only peek people will get into the tightly guarded private life of the former Chief Minister.
These documents had been handed over to the Commission by Jayalalithaa's physician and Sasikala's nephew Dr Shivakumar and were apparently part of records that were maintained by the former CM herself.
The note, which begins with a pillayar chuzhi is dated August 2, 2016. Recording her weight and fasting blood sugar by glucometer, Jayalalithaa's day seems to have begun at 4: 55 am with lotus water. The breakfast recorded in the note is between 5: 05 am to 5: 35 am and consists of one and a half idlis, four slices of bread, 400 ml of coffee, and 230 ml of tender coconut water.
The note then records 200 ml of green tea at 5: 45 am. In what is a possible reference to her blood sugar level, it says "Up to 8 am – Revive – 200 ml." With an apple at 8: 55 am and 120 ml of coffee at 9: 40 am, it also includes five Bourbon biscuits.
On page 98 of the document that carries the seal of the Commission, the notes goes on to detail lunch and dinner. According to the note, one cup of Basmathi rice was to be consumed at 11: 35 am. Lunch, between 2 pm and 2: 35 pm consisted of one and a half cups of basmathi rice, one cup of yogurt and half a bowl of muskmelon. She also notes a 50 mg tablet of Januvia to be taken at 2: 45 pm. Januvia is generally used to lower blood glucose levels amongst people with type 2 diabetes.
With 200 ml of coffee at 5: 45 pm, the notepad details a dinner of walnuts and dry fruits (half cup), idli upma(one cup), dosai(one), bread(two slices) and milk(200 ml). A 25 mg dosage of Mignar, another anti-diabetic drug, is noted along with the food followed by another 50 mg Januvia tablet at 7: 25 pm.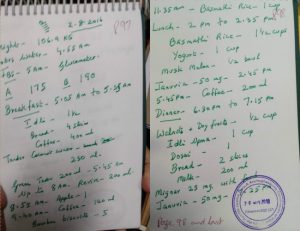 In the 52 second audio clip that was released along with the document, a coughing Jayalalithaa is heard mildly berating a doctor for not being able to take her test when she called him earlier. The former film star goes on to joke that the blood pressure recording equipment is making a noise that sounds very much like the whistles heard from the front rows of a cinema hall.
When she is informed that her blood pressure is high at 140 by 80, she responds saying, "It's okay for me. Normal."
Speaking to TNM, Raja Senthur Pandian, the counsel appearing for Jayalalithaa's close aide Sasikala says, "As per Sasikala madam's affidavit, she has stated categorically that Jayalalithaa madam was in the practice of writing down her own medical things- what food, what time and what was her sugar level. She was recording everything periodically. The purpose of such recording by her handwriting is to show the document to the doctors and specialists who are visiting her and take their advice about blood circulation and blood fluctuation that she was recording. Already Dr Sivakumar has marked one such book. During the cross-examination, I had put forth a question. He had said that he was in possession of certain books which she herself has written. I asked which was the last book he was holding. He told from June 16th to August 2nd. After that whatever she has written are in books in her room in her Poes Garden. This was marked. The original copy is also available."
Sasikala who is now serving jail time at the Parappana Agrahara prison in Bengaluru for her role in acquiring Disproportionate Assets was widely accused of having conspired to kill Jayalalithaa for power. Stating that the documents vindicate his client's stance, Sasikala lawyer went on to add, "The case is that Jayalalithaa was normal during the course of September 2016 and all of a sudden she was admitted in hospital. So the reason for constituting a commission is to find out what is the reason for sudden hospitalisation. We have taken the pain and strain of bringing 20 specialists throughout India who have given treatment for Jayalalithaa. She was undergoing lots of health ailments from end of 2014 to June 2016. After the election, she was developing certain skin problems for which two – three doctors have given treatment. So we are establishing the fact that all along she was not well and she was taking treatment and these were her food habits. We are establishing that there is no conspiracy."
In December last year, a video of Jayalalithaa in hospital was released by Sasikala's nephew TTV Dhinakaran's camp, causing furore a day before the RK Nagar bye-elections that were necessitated by her death.
In August 2017, current TN Chief Minister Edappadi Palaniswami announced a one-man inquiry commission to probe the death of late Chief Minister Jayalalithaa. The commission was a bargain between the CM and O Panneerselvam who had split into two factions following Jayalalithaa's death.
https://demokraticfront.com/wp-content/uploads/2018/06/Jayalalitha.jpg
1178
1600
Demokratic Front Bureau
https://demokraticfront.com/wp-content/uploads/2018/05/LogoMakr_7bb8CP.png
Demokratic Front Bureau
2018-06-01 12:24:12
2018-06-01 12:24:12