BJP concedes defeat as united Opposition trumps party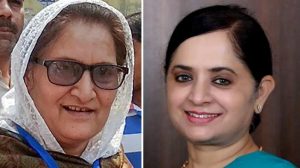 Kairana bypolls: The battle for Kairana was expected to be a close contest between Bharatiya Janata Party's Mriganka Singh and Rashtriya Lok Dal's Tabassum Hasan. However, after a tough fight that the initial trends indicated, Hasan took a massive lead of over 50,000 votes handing BJP its third loss in the state this year after the defeat in Gorakhpur and Phulpur bypolls.
Talking about her win, Tabassum said that this will clear the path to a win for the united opposition in the 2019 Lok Sabha elections. "This is the victory of truth. I still stand by what I said, there has been a conspiracy and we do not want any future elections to be conducted on EVM machines. The path for united opposition is clear in 2019," she said, while adding that the people of Kairana have buried BJP.
She added that the margin of victory would have been bigger EVMs didn't falter. She said that this will be a victory of truth over lies. "Our margins would have been greater if the EVMs didn't falter. Repolling also helped us by 20,000 votes. This will be a victory of truth over lies — our truth versus their 4 years of lies. All parties coming together for the people worked," Hasan added.
Tabassum Hasan had contested for the first time in 2009 Lok Sabha election on a BSP ticket, months after losing her husband in a car crash in Haryana. Her husband Munawwar Hasan was a popular leader in Kairana and had an intense rivalry with Hukum Singh.
In 2014, the 47-year-old leader stepped aside, allowing her son Nahid to contest the election on a Samajwadi Party ticket against Hukum Singh. However, Hukum Singh won the election riding on the 'Modi wave' as BJP got a historic mandate.
Tabassum had her revenge in the ensuing Assembly bypoll, which Hukum Singh had vacated as Nahid became the SP MLA by beating Hukum Singh's nephew Anil Chauhan. He won the seat again in 2017, this time against Hukum Singh's daughter Mriganka.
The Kairana seat fell vacant after the death of Hukum Singh, whose daughter Mriganka Singh was the BJP candidate. Meanwhile, Tabassum Hasan was supported by the Congress, the Samajwadi Party and the Bahujan Samaj Party.
The Kairana bye-election is the fourth Lok Sabha bypolls in the state since 2014. Apart from Gorakhpur and Phulpur, a bye-election was also held in Mainpuri in 2014.
https://demokraticfront.com/wp-content/uploads/2018/05/collage_647.jpeg
363
647
Demokratic Front Bureau
https://demokraticfront.com/wp-content/uploads/2018/05/LogoMakr_7bb8CP.png
Demokratic Front Bureau
2018-05-31 09:42:37
2018-05-31 09:42:37
BJP concedes defeat as united Opposition trumps party