HC questions Punjab over Guriqbal's Degree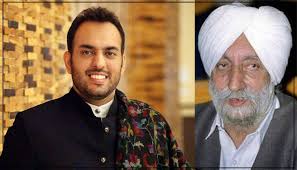 CHANDIGARH: The appointment of former Punjab chief minister (CM), Beant Singh's grandson, Guriqbal Singh as a deputy superintendent of police on the basis of graduation degree obtained through distance mode, has come under scanner of the Punjab and Haryana high court, which on Wednesday issued notice to the state government.
The main allegations are that a substantial number of employees in Punjab government are not being regularized on ground that they had obtained degrees through distance education from universities situated outside the state.
However, Guriqbal Singh, who has procured a degree from Pariyar University through distance education, was appointed on DSP's post.
Besides the state government, the HC has also asked Guriqbal Singh to file his response on the contentions raised by the petitioners.
Justice Rakesh Kumar Jain has issued the notice after hearing a petition filed by Gurvinder Rattan, a contract teacher of Sangrur district.
The petitioner has stated that through an order, issued on June 23, 2015 by DPI (Secondary Education), his continuation in service as Vocational Master (Computer Science) was made subject to authenticity of his master degree obtained through distance education from Madurai Kamraj University, by a Committee headed by the Chief Secretary, Punjab. The committee is yet to decide the fate of such degrees.
He also referred to fate of 192 Clerks, who were not allowed to join on the post on selection, as they had acquired their degrees through distance education from universities situated outside Punjab. Likewise, in many other cases, the concerned candidates were denied the benefit of such degrees obtained through distance education, argued the petitioner.
Petitioner further stated that B.Com degree was obtained by Guriqbal Singh from Paryiar University (Tamil Nadu) through distance education but without waiting for report of chief secretary's committee, he was appointed as DSP on June 7, 2017.
The Counsel for petitioner, H C Arora argued that the conduct of the state government is discriminatory and against the dictum that all are equal before law.
"In the case of powerful and political persons like Guriqbal Singh, the education qualifications/ Degrees acquired through distance education mode are being accepted, while such degrees are not being entertained in case of other candidates of Punjab. The respondents are therefore, liable to be directed to adopt uniform approach in case of all citizens irrespective of their social or political status and in case the degrees obtained through education mode are not to be accepted, Guriqbal Singh should also be removed from DSP's post," counsel has submitted.
https://demokraticfront.com/wp-content/uploads/2018/05/download-3.jpg
170
297
Demokratic Front Bureau
https://demokraticfront.com/wp-content/uploads/2018/05/LogoMakr_7bb8CP.png
Demokratic Front Bureau
2018-05-31 09:48:42
2018-05-31 09:56:11
HC questions Punjab over Guriqbal's Degree