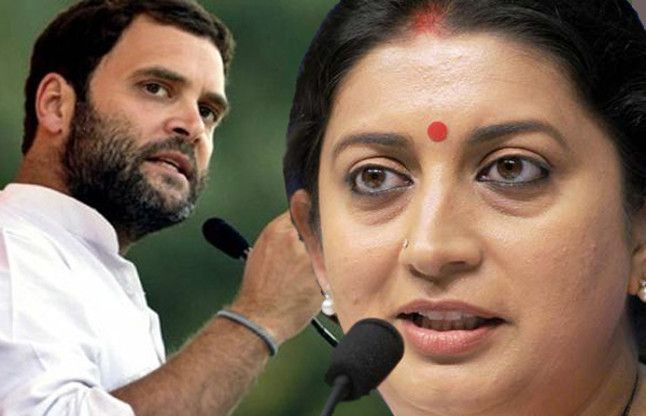 Union Textiles Minister Smriti Irani on Tuesday pooh-poohed Congress President Rahul Gandhi's statement that he was ready to be the Prime Minister in case the Congress emerged as the single largest party after the 2019 general elections.
"I do politics in the area where Rahul Gandhi also does politics. In Amethi, he has lost every Assembly and local election in four years. How can a person not guaranteed to get re-elected in his own constituency have chances of returning to power in the country," she told journalists in the Meghalaya capital.
"People in Amethi are not happy and he is talking of development in different parts of the country. It was during our tenure that Passport Office, Chief Medical Officer's office and District Collector's office in Amethi were inaugurated, while the Congress did nothing in its own bastion. How can he talk of development in the country'" the Bharatiya Janata Party leader added.
Noting that the earlier United Progressive Alliance government left behind a legacy of apathy, she said: "This is a 48-year-old legacy of apathy of one family versus 48 months of good governance under (Prime Minister) Narendra Modi," Irani said.
"I would like to remind you that when we came to power and got the opportunity to serve the people, the economic condition of the country was poor. The government had to address the financial challenges in every sector, especially pertaining to the scams and debts incurred under the UPA rule," she said.
Evading a direct reply to queries on fuel price hike and black money, Irani assured the people that her colleagues in the government and party President Amit Shah would offer a "time-bound solution" to the issues soon.
On Congress claims that the NDA government was inaugurating projects in the northeast which were initiated in the UPA rule, the Union Minister pointed out that the NITI Aayog, Mudra loans and the Jan Dhan Yojana were initiated by the current dispensation.
A NITI forum for the northeast was formed and its first meeting was held on May 10.
"The northeast is an area of prime focus as the Prime Minister has given a clarion call for its all-round development. A forum had been set up under the NITI Aayog to work to this end…," the Minister said.
https://demokraticfront.com/wp-content/uploads/2018/05/SmritiRahul-1454350765_835x547.jpg
416
646
Demokratic Front Bureau
https://demokraticfront.com/wp-content/uploads/2018/05/LogoMakr_7bb8CP.png
Demokratic Front Bureau
2018-05-29 17:04:02
2018-05-29 17:04:02
I do politics in the area where Rahul Gandhi also does politics: Samriti Irani